Takuma Lathrop

By
.(JavaScript must be enabled to view this email address)
Friday - March 24, 2010
Share
|

Del.icio.us
|

Podcast
|
WineAndDineHawaii.com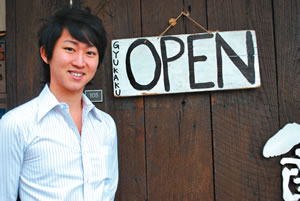 Job Title: General Manager, GyuKaku Restaurant.
Where were you born and raised?
Born and raised in Hawaii. I'm Japanese, but I have a step-grandfather and that's where my English last name comes from.
Schooling? I'm a graduate of UH.
What sparked your interest in the food and beverage industry? My parents owned a Japanese restaurant in Waikiki when I was still a baby, so that gave me a taste for running restaurants, I guess! Then, eight years ago I applied for several restaurant jobs, and this was the only one where I didn't get a call back. Of course, because of that I really wondered why they didn't want to hire me, so I called and was interviewed, and I started training right around the time of our Waikiki opening. Once I started working with the company I really liked the energy and the atmosphere.
Anything you'd highly recommend to first-time guests? There are a lot of dishes we're known for. Our meat, of course, is very good, but I'd probably recommend the kalbi and the filet mignon - it's hard to recommend one thing because everything is so good.
What do you order when you're eating here? I always get the premium kalbi, the harami, our misuji flatiron and the intestines - which are a little different. Not too many local people order the liver and intestines, but a lot of people love the tongue. And our boneless chicken wings in a yuzu pepper paste are very good, too.
Are there better times than others to come if it's your first time? Well, happy hour is really popular, and obviously weekends are, too. Lunchtime is a really good time to try the food and to get an idea of the atmosphere and the service.
And you have really good value lunch sets right now. Yeah, for just $7.50 there's a set that includes dessert - and our barbecue sets are just $9.95. They're very affordable.
Where do you like to go to eat when you're not working? I love Japanese food, so I usually eat in restaurants that specialize in traditional Japanese food. I also like Hiroshi for more contemporary Japanese-influenced food, and I really like Hy's Steak House. I think the kiawe charcoal that they use to cook the meat adds flavor.
Do you cook at home? Yes, I love to cook at home. I like to keep things simple: lots of pasta, chicken, fresh vegetables.
What's always in your fridge? QP (Kewpie) mayonnaise. It's a Japanese mayonnaise that you get at Don Quijote. It's very creamy in texture - Japanese mayo is very creamy, almost like a sauce, and it's a little more acidic than American mayo.
Who would you most like to see come in for dinner? I'm a big UFC fan, so it would be great to see BJ Penn here. We've had a few UFC fighters come in, but BJ hasn't been here yet.
Most Recent Comment(s):