Paul Lam

By
.(JavaScript must be enabled to view this email address)
Friday - May 28, 2005
Share
|

Del.icio.us
|

Podcast
|
WineAndDineHawaii.com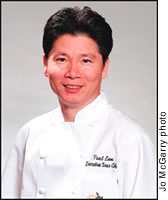 Title: Executive Sous Chef Sheraton Waikiki, in charge of the hotel's Chinese banquets.
Age?
49
First professional cooking job?
My first cooking job was working at China House in Ala Moana Shopping Center when I was 22 years old.
Who has influenced you most in your cooking career?
Chef Tin Fu Chan from my days working at China House.
Favorite dish at your own restaurant?
Honey walnut shrimp.
Favorite dish at another Hawaii restaurant?
I like the steamed fish from Legends.
What's always in your fridge?
Fresh vegetables and fruits.
Favorite late night snack?
When I get home from work it is usually late. I'll typically eat rice with stir-fry.
Whom would you most like to cook dinner for?
My parents. When I get home, it is usually too late for me to cook dinner for them since they eat earlier.
What ingredient can you not live without?
Vegetables like choy sum, baby bok choy and snow peas, to name a few.
How would you describe your cooking?
I specialize in local Chinese, Cantonese, Szechwan and family style of cooking. It is one thing to make an entrée for 1,000 but a challenge to plan a good five-course menu for 1,000. I believe that consistency is the key if you want clients to return.
Describe your restaurant to someone who hasn't been there before?
The Chinese banquets here at the Sheraton are perfect for large gatherings. The hotel is right on the beach and offers a lot for visitors and locals to do.
How do you relax when you're not in the kitchen?
I enjoy spending time with my family. I also enjoy visiting the other food outlets we have here at the Sheraton Waikiki. Sometimes before I start work, I'll walk around to see what my fellow chefs are up to.
Most Recent Comment(s):
Commenting is not available in this weblog entry.