Pete Licata

By
.(JavaScript must be enabled to view this email address)
Friday - April 06, 2011
Share
|

Del.icio.us
|

Podcast
|
WineAndDineHawaii.com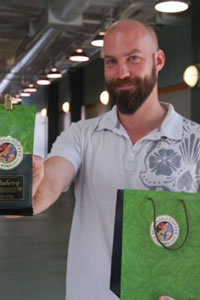 Occupation: Director of Coffee Quality at Honolulu Coffee Co.
Where were you born and raised? Kansas City, Kan.
What started your passion for coffee? Caffeine - and also working with some amazing people in the specialty coffee industry is what moved me more than anything.
You just won the Southwest regional contest in the U.S. Barista Championship, beating 36 baristas from seven states to win.
Congratulations, and what exactly is a good barista? A good barista is someone who pays attention to small details, and who is always willing to learn. You have to love coffee and people.
Favorite coffee farm? Rusty's Hawaiian in Ka'u. The Obra family is amazing. Their coffee is wonderful! There are a number of other farms in the Islands that I am a huge fan of, though - Maui Grown in Ka'anapali and Waiono Meadows in Kona really stand out.
Do you make a good cup of coffee at home? I like to think so ... I usually use my trusty French press.
Essential tools for the trade? Coffee grinder (with burrs, not blades), hot water and fresh coffee.
What's always in your fridge? Eggs and good beer.
Favorite places to eat? Side Street Inn, Kona Brewery, Honolulu Coffee Co., Mai Tai's, Downtown Coffee, Beach Bum Café. Coming from the Midwest, I really like to eat - and drink coffee.
With whom would you most like to have coffee? Grace Park and Harrison Ford.
What's the best use of coffee - other than in a cup - that you've seen so far? In a coffee crème brulee, made by a student at KCC. It was amazing!
How's the coffee competition once you get to the national stage? The national stage is very difficult in terms of advancing and competition. The best competitors from all over the USA are there, but the feeling is friendly and inviting. We are all there because we love coffee, and it is usually a great time.
If you had to recommend just one HCC roast, which would it be? I would recommend the 100 percent Kona Extra Fancy. It's a medium roast, but the flavor is smooth and sweet. It makes a great brewed coffee and I can drink it all day!
Most Recent Comment(s):