Philana Bouvier

By
.(JavaScript must be enabled to view this email address)
Friday - April 21, 2010
Share
|

Del.icio.us
|

Podcast
|
WineAndDineHawaii.com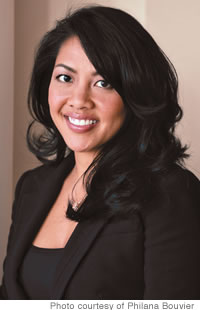 Job Title: CEO Waiwera, USA
Where were you born and raised? I was born in Bangor, Maine, and raised all over the U.S. I came to Hawaii when I was 17 years old - dropped out of school and came to Hawaii by myself.
What got you started in the food and beverage industry? I started working as a waitress at the Old Company Restaurant on Kuhio Avenue, then I went to work for Anheuser Busch as a promotions girl. From there I got into sales and worked with Southern Wine and Spirits for three years.
What's the big difference between selling bottles of water and bottles of wine? When you're in the restaurant business, restaurants will offer lots of wines to customers - there are sometimes hundreds of wines on a list. The great thing about bottled water is, if a restaurant chooses your product, it's often the only one sold there.
Tell us a little about Waiwera. It's water from New Zealand and is the oldest bottled water in the Southern Hemisphere. Waiwera means "hot water," and it comes out of the ground at around 127 degrees. We cool it, bottle it and sell it around the world.
Would I notice any difference in the taste from water sourced in Hawaii?
It has a very high PH balance, making for a really soft mouth-feel. And our sparkling water is soft, almost like champagne - not at all like most harsh sparkling waters.
How about the recycling issue? Bottled water has a big carbon footprint. Our plastic bottles are 100 percent recyclable, but the great thing about our glass bottles is that they're beautiful - and reusable.
Where can we find it in Hawaii? Tamura's, the fine-wine stores and at most of the top restaurants.
Where do you like to eat? Michel's is my all-time favorite restaurant. I love it. I like Halekulani, Roy's, Alan Wong's ... all the fine-dining restaurants.
Do you cook at home? Yes! I love to cook. My specialty is Vietnamese short ribs.
What's always in your fridge? Pate, foie gras and cheese, and I love Mexican food, so there's always tortillas and lots of meat.
Anything that would surprise people about you? (laughs) That I am actually really mellow. People think I'm really hyper, but I just love being home and being quiet.
Most like to have dinner with? My parents. I haven't seen them in so many years.
Most Recent Comment(s):