Philippe Padovani

By
.(JavaScript must be enabled to view this email address)
Friday - December 21, 2007
Share
|

Del.icio.us
|

Podcast
|
WineAndDineHawaii.com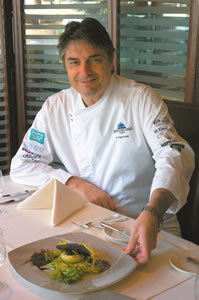 Title:
Chef/Partner, Elua Restaurant.
Where were you born and raised?
I was born in Marseilles and moved to Australia as a baby, and then back to France when I was 14.
Your parents ran a casual restaurant in Australia. Did that prepare you in any way for a French culinary training?
Not at all. When I began my apprenticeship, I didn't know the difference between goat cheese and an artichoke. I didn't understand the French culture, and I hadn't even seen half of the ingredients we were cooking with.
Who has had the most influence on your culinary career?
George Achini. He was an incredible teacher and a gifted chef. I learned to make my foie gras terrine from him. You can count on one hand the chefs who can make it. It's a recipe that George asked me to keep and never give away.
You came to Hawaii in 1984 as a consultant chef at La Mer. How did you find working here after Europe?
It seemed so easy at first! In France, every chef starts work by going to the market at 5 a.m.
What's the most important thing you try to teach aspiring chefs?
Well, it's a profession, you know, not just a job. People have to understand what it's like to work long hours and to work hard. I try to teach the love of what we do. It's not easy.
Do you cook at home?
Sometimes, but actually my wife is a very good cook, and she's more likely to cook at home.
What's always in your fridge?
Cheese, yogurt, salami, prosciutto - and we always have good bread at home.
How do you relax?
Relax? (laughs). I like to watch soccer. It's such a skilled game. And I like history, so I enjoy reading and historical programs ... and listening to loud music in my car.
Who's on your CD right now?
Fleetwood Mac and Pink Floyd.
Is David Beckham worth the money?
Yes.
What's a "must-try" dish at Elua?
Well, probably the foie gras - it's a favorite. And Donato's stracciatella is excellent. I've told him he should market it. And, of course, people always like our fresh fish.
Elua Restaurant & Wine Bar 1341 Kapiolani Blvd.
955-3582
Most Recent Comment(s):