Philippe Padovani

By
.(JavaScript must be enabled to view this email address)
Friday - April 28, 2010
Share
|

Del.icio.us
|

Podcast
|
WineAndDineHawaii.com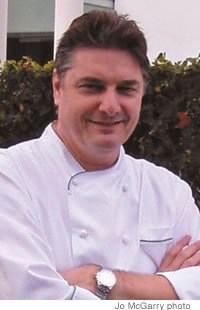 Every year Leeward Community College's culinary arts gala - L'ulu -celebrates one of the original founders of Hawaii Regional Cuisine. This year, on May 8, Philippe Padovani will be honored at the gala dinner.
Age: 53
Where were you born and raised? Born in Marseilles, moved to Australia as a baby and then back to France in 1968 when I was 14.
Your parents ran a casual restaurant in Australia. Did that prepare you in any way for a French culinary training? Not at all. Quite the reverse. When I began my apprenticeship, I didn't know the difference between goat cheese and an artichoke. I didn't understand the French culture and I hadn't seen even half of the ingredients we were cooking with.
Who has had the most influence on your culinary career? George Achini. He was an incredible teacher and a gifted chef. I learned to make my foie gras terrine from him. You can count on one hand the chefs who can make it. It's a recipe that George asked me to keep and never give away.
What's new with you? For the past six months I have been culinary consultant to Shanti Ananda on Mauritius, the biggest spa in the world at more than 70,000 square feet. You should check out the Web site - it's amazing! - http://www.shantiananda.com. I'm also serving my food on Japan Airlines First Class service, and still making chocolates.
You also opened a luxurious chocolate shop at Dole Cannery. Yes, we sell specialty coffees and hot chocolate, our gourmet Grand Cru chocolates. We're open from 7 a.m. to 5 p.m. weekdays, and on Saturdays from 8 a.m. to 4 p.m.
Do you cook at home? Sometimes, but actually my wife is a very good cook and she's more likely to cook at home.
What's always in your fridge? Cheese, yogurt, salami, proscuitto and we always have good bread at home.
Favorite kitchen gadget? A KitchenAid scale that measures in kilos and grams.
How do you relax? Relax? (Laughs). I like to watch soccer - it's such a skilled game. And I like history, so I enjoy reading and historical programs on TV ... and listening to loud music in my car.
What do you suggest as the perfect gift for Mother's Day? Gourmet hand-made chocolate, of course! Or you could preorder our amazing apple strudel early in the week. We'll be taking orders and baking the strudel fresh at our Dole store on Mother's Day from 9 a.m. I'm going to serve it hot with vanilla ice cream.
Most Recent Comment(s):