Pila Sunderland

By
.(JavaScript must be enabled to view this email address)
Friday - March 16, 2011
Share
|

Del.icio.us
|

Podcast
|
WineAndDineHawaii.com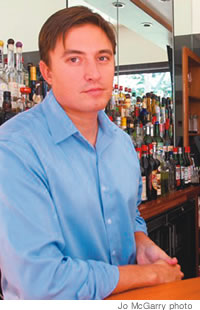 Occupation: General Manager, Il Lupino Ristorante and Wine Bar.
Where were you born and raised? Born on Oahu, raised between Hawaii and the Mainland.
What started your interest in the hospitality industry? My aunt's boyfriend had a bar/restaurant, so I spent a lot of time with him, my mother and my aunt watching how they worked. When I was really young he had a booze cruise ship off Fisherman's Wharf, and that was where I got my first job. From then I worked with Starwood, Beach House and Chef Mavro.
You've been involved with a lot of great restaurants. Is good food a passion? Yes! Eating is my biggest passion. I just spent two days in Whistler (Canada) with my wife, where I ate three dinners in two nights, several breakfasts in one day and a few lunches too. I love to eat.
So where do you love to eat in Honolulu? town is my favorite haunt. I love Soul, Sean Priester's new place off Waialae Avenue - having spent time in Tennessee, it's nice to have something that tastes like Southern food here. YottekaYa at McCully, Jimbo's, La Mer, Chef Mavro, of course ... shall I continue?
So I'm guessing that you cook at home. Yes, it started because I like to eat so much, but now I'm really into it. If I can go somewhere else and get a better version than I can make, then I will; otherwise, I cook at home. So mostly I do things we can't get here: Moroccan tagines, braised meats, wood-plank grilled salmon. And I like to do pastry ...
What's always in your fridge? Wine, always, garlic, pasta, Arborio rice, canned fish of some sort - ones with high oil content like white anchovies and sardines. I'm not home enough to have many fresh ingredients, so I look for things that will keep.
Anyone you'd love to see come in for dinner? Difficult question. Wouldn't be culinary people, surprisingly enough, more likely Howard Hughes or Richard Feynman or some other interesting character not around anymore.
Most Recent Comment(s):