Polly Kauahi

By
.(JavaScript must be enabled to view this email address)
Friday - December 02, 2009
Share
|

Del.icio.us
|

Podcast
|
WineAndDineHawaii.com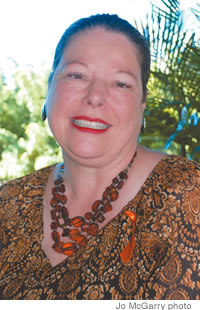 Job Title: Director of Development, Hawaii Foodbank.
Where were you born and raised? I was born in New Hampshire and raised in Waianae. Went to Waianae Elementary, Washington Intermediate and then Kalani High School and La Pietra.
How did you start your work with the Hawaii Foodbank? I would say that it was partially destiny. I came as a volunteer and I loved it from the moment I walked in. Eventually I took a part-time job here and tried to cram the rest of my life in alongside working at the food bank, but eventually I realized I couldn't do everything, and I became a full-time employee 12 years ago.
You've just kicked off the annual Kraft Check Out Hunger campaign that runs from now until the end of January. Might this be a difficult year for donations? You know, every year donations have increased. People in Hawaii really do think of others when times are toughest. And since Kraft became involved in 2003, the donations have gone from $70,000 to more than $150,000. Kraft revitalized the campaign, and we could not have done any of it without them. We know this year will be tough, but we also know Hawaii people and how wonderfully generous they are.
How much of a difference does even a small donation make? It makes a tremendous difference in someone's life - $2.81 feeds a child breakfast for a week. It's a small amount, but you can't go wrong, and this holiday season you're most likely helping someone you know. So many people are working and still need the food bank.
Where do you like to eat out? Everywhere! I love Hiroshi's, I love The Pineapple Room. I take great advantage of Bidding Advantage in the Star-Bulletin and buy as many restaurant certificates as I can and go to all the restaurants.
Do you like to cook at home? I love to cook. Our family favorites are spaghetti or chili - but we love to cook anything. My daughter is becoming quite the gourmet cook.
What's always in your fridge ? Chili pepper water and diet soda. No bread, because I love it too much.
With whom would you most like to have dinner? President Obama and his family, including his sister Maya. There's a lot to talk about.
What would surprise us about you? I'm an avid poker player. My husband's family taught me how to play when I was a teenager, and I've never stopped.
Most Recent Comment(s):