Puna Nam

By
.(JavaScript must be enabled to view this email address)
Friday - March 30, 2007
Share
|

Del.icio.us
|

Podcast
|
WineAndDineHawaii.com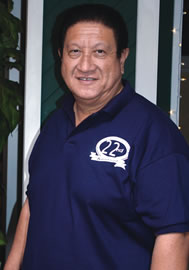 Puna Nam
Puna Nam and his wife Cricket are the owners of the popular Cinnamon's restaurant in Kailua. Cinnamon's is the spot for breakfast on weekends, with more than 600 covers on Sundays alone. Cinnamon's is also open for dinner on Thursday, Friday and Saturday evenings. Here, Puna talks about running a neighborhood restaurant, and why liver, bacon and onions is one of Cinnamon's most requested dishes.
Where were you born and raised?
I was born and raised in Honolulu, and I graduated from Kamehameha Schools.
What sparked your interest in the restaurant business?
I had a degree in banking and finance from Chapman College, but I wanted to come back to Hawaii and make my home and business here. I knew I wanted to work with local companies and be a part of the community. The idea of a restaurant was appealing, so my wife and I started to look around.
What has been the most challenging aspect of the business these past 22 years?
It's probably staffing issues - and I'm sure that most restaurant owners and small-business owners will agree. Being able to keep staff, train them well, find the right person for your business, it all takes time and effort. You really invest a lot of time in your staff.
How about rewards?
That's easy - it's the customers. Through the years we have formed a lot of very good relationships and made good friends of our customers. In this business you really get to know people, and that's the side both of us enjoy very much.
What would we always find in your fridge?
Ice water and Best Foods mayonnaise.
Where are your favorite restaurants?
We love to go to Hy's Steak House, and we enjoy a small Thai restaurant in Kalama Valley (Thai Valley Cuisine).
What's the most popular item on the menu at Cinnamon's?
That's really hard to say because we have so many dishes that have been popular since the day we opened. I have to say, though, that our liver and bacon and onions is really popular! I think it's partly because we're one of the only restaurants to serve liver, and partly because people don't like to cook it at home. Either way, it's very good!
Any advice for readers who are thinking of starting their own restaurant?
I'd say really think about how much you want to do it. It takes such a toll on your family life when you have to work every weekend and every holiday - you have to be really prepared to make that sacrifice.
Most Recent Comment(s):