Quinten Frye

By
.(JavaScript must be enabled to view this email address)
Friday - November 16, 2011
Share
|

Del.icio.us
|

Podcast
|
WineAndDineHawaii.com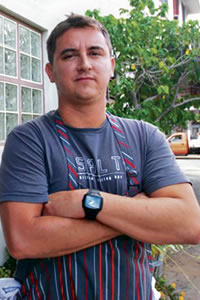 Occupation: Chef De Cuisine, SALT Kitchen and Tasting Bar.
Where were you born and raised? San Antonio, Texas.
Did you come from a culinary background? I guess you could say that. A little bit. Not from a restaurant background, but my grandmother and mother cooked, and I learned a lot from watching them.
What was the predominant food in your house? Mexican style southwest cooking ... the kind of food you'd find in most parts of Texas.
So what inspired you to enter this crazy world of food and beverage? Good question (laughs). I started out at 15 washing dishes, and then serving tables and then went to culinary school in Texas.
I know you haven't been in Honolulu for too long but have you found any favorite spots to eat and drink when you're not at work? I've only been here for eight months, but I definitely have some favorites. Gaku sushi is one. But I work so much that I mostly eat at 12th Avenue Grill ... and SALT of course.
Do you cook at home? Absolutely. Always. If I'm home I cook.
Specialties of the house? Whatever is simple. Usually I make something from the farmers market, or from Tamashiro market. I like to cook whole fish, grill outside ... simple things. Nothing complicated.
What's always in your fridge? Eggs, almond milk, yogurt.
What attracted you to the concept of SALT? I kind of like the whole vibe of a small place, food served tapas style, cured meats ... We're trying to be progressive and not just cook good food, but also educate people about what we're cooking.
What's your recommendation this week from the menu? Well, it's more about a style than just a dish. I feel like my style of cooking is simple. I like to just focus on fresh ingredients. I'm all about that. I think that the Ahi Bruschetta which is a play on ahi tartar is a good choice. We're just playing on the products really.
With whom would you most like to have dinner? Honestly, I would have to say my mom. She's been my mentor in life, I guess, so she would be the person.
Most Recent Comment(s):