Quirino Domingo

By
.(JavaScript must be enabled to view this email address)
Friday - June 04, 2005
Share
|

Del.icio.us
|

Podcast
|
WineAndDineHawaii.com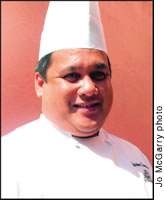 Title: Pastry chef at the Royal Hawaiian.
Age?
39 years
First professional cooking job?
My first professional cooking job was working with my dad for our family business. We owned a restaurant called "Patisserie LeBon" and I started working there in 1988.
Who has influenced you most in your cooking career?
My dad. He taught me everything I know about baking, and I wanted to be just like him. Also, Chef Alfred Cabacungan continues to inspire all of us here at the Royal Hawaiian. He is such an incredibly creative and talented chef with so many innovative ideas.
Favorite dish at your own restaurant?
The sautéed togarashi spiced mahi mahi with Kona crab stuffing, baby bok choi and pineapple-mango relish, pipikaula hash cake and a soy ginger vinaigrette.
Favorite dish at another Hawaii restaurant?
Oxtail soup from Kapiolani Bakery.
What's always in your fridge?
My fridge varies, but there is always ice cream in my freezer. My favorite flavor is chocolate!
Favorite late night snack?
Ice cream.
Whom would you most like to cook dinner for?
To tell you the truth, my family, whom I cook dinner for every night. I love cooking for my wife and three kids.
What ingredient can you not live without?
Chocolate!
How would you describe your cooking?
It depends on the occasion. My wedding cakes are very detailed and fanciful. The largest wedding cake I created was the same height as me! It was 5-feet-5- inches tall and took half a day to create! My most popular cakes are made from local flavors of guava, mango and coconut. The guests love it because it is light and tropical.
Most Recent Comment(s):
Commenting is not available in this weblog entry.