Rachel Cordeiro

By
.(JavaScript must be enabled to view this email address)
Friday - December 22, 2010
Share
|

Del.icio.us
|

Podcast
|
WineAndDineHawaii.com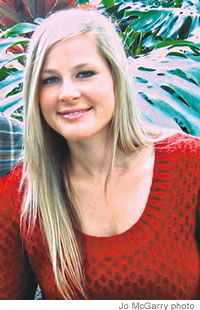 Title: Manager, Honolulu Coffee Co. (Bishop Square location).
Where were you born and raised? Southern Oregon.
What started your interest in coffee? I originally wanted to be a musician and played for the North State Symphony for several years. There's a really popular drive-through coffee shop in the community where I lived in Oregon, and I started working there and immediately enjoyed the interaction with people - and the coffee. I managed it for six years before coming to Hawaii.
What is it about coffee that attracted you and made you want to change careers? I love interacting with people, making them happy and giving them great coffee. I believe the saying, "if you do what you love you won't work a day in your life," and working with coffee is definitely something I love.
What made you move to Hawaii? My husband's family is here, and we'd always talked about coming here. I stopped by Honolulu Coffee Co. one time and was so incredibly impressed with their coffee. I wanted to be a part of a great work environment, so when we moved here, this was it!
And now you're not just selling coffee anymore. Yes, we've just added chocolate to our collection. The chocolate connoisseurs who've tried it are really excited. We're using Valrhona chocolate and local ingredients like Hawaiian salt, ginger and macadamia nuts. We have a lot of really interesting combinations. And right now we have gingerbread men - and a great new coffee barbecue rub.
What is absolutely essential in making a great cup of coffee? You have to get the measurement right, the ratio of coffee to water. So many people just dump any amount of coffee in. For our coffee, for example, it's 2 tablespoons for every 6 ounces of water.
Best kitchen gadget you can buy a coffee lover for Christmas? It's nice to have a grinder. Freshly ground coffee tastes best.
What's always in your fridge? Apples and pickles.
With whom would you most like to have coffee? My husband David. He's my best friend and makes me laugh so much.
Most Recent Comment(s):