Ralf Bauer

By
.(JavaScript must be enabled to view this email address)
Friday - June 18, 2005
Share
|

Del.icio.us
|

Podcast
|
WineAndDineHawaii.com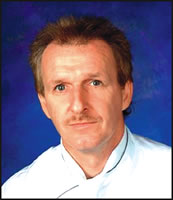 Title:
Executive Chef Sheraton Moana Surfrider and Sheraton Princess Kaiulani
Age?
47
First professional cooking job?
When I was 14, the Maritim Hotel opened in Germany. It was the biggest hotel in the area and I went there asking for a job. They told me that I was too young so I came back a year later and got an apprenticeship there.
Favorite dish at your own restaurant?
I have two from the Banyan Veranda. The first is the Hawaiian seafood bouillabaisse, ginger lemongrass enhanced, garnished with shrimps, scallops, clams and island snapper, baby bok choy and steamed rice. The second is the garlic herb crusted lamb chops, oven roasted, natural jus, served with potato mash and fresh vegetable.
What's always in your fridge?
Fresh fruit and vegetables.
Favorite late-night snack?
German or Swiss chocolate with marzipan or strawberry or chocolate ice cream.
For whom would you most like to cook dinner?
I would love to host a dinner for my wife's family in Taiwan with my family in Germany.
What ingredient can you not live without?
Salt, in moderation, can enhance the natural flavors of a dish.
How would you describe your cooking?
I believe you need to learn the basics before you can progress in your cooking. My cooking is open-minded and honest. I like to be creative without going overboard.
Describe your restaurant.
I oversee the kitchen operations for eight food and beverage outlets in the Sheraton Moana Surfrider and the Princess Kaiulani Hotel. We offer everything from a romantic, elegant setting with ala carte service at the breathtaking Banyan Veranda to casual, family dining at the Pikake Terrace. Regardless, all of our establishments offer high-class food and service for visitors and locals alike.
How do you relax when you're not in the kitchen?
I enjoy spending time with my wife and my 4-year-old daughter Isabelle. I also take pleasure in working in my garden and jogging.
Most Recent Comment(s):
Commenting is not available in this weblog entry.