Randy Ching

By
.(JavaScript must be enabled to view this email address)
Friday - June 10, 2009
Share
|

Del.icio.us
|

Podcast
|
WineAndDineHawaii.com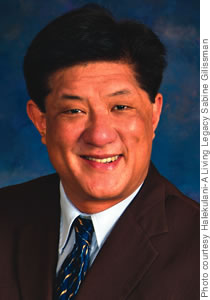 Age: 53
Job title: Halekulani wine manager
Where were you born and raised? Born in Kahuku, raised mostly in Hawaii Kai and Kailua.
What started your interest in wine? At a Diamond Head apartment in 1973, my sister and I were sitting on the balcony at sunset. She was carving a peach to eat with Philadelphia cream cheese and she had a bottle of Yago Sangria - can you believe that? Anyway, it blew me away. From there I started researching into wine. There weren't many wine stores at the time, but I got a part-time job during the day and ended up at Vintage Wine Cellar working with Alan Kam. To me, that was the best way to study wine.
What is it about food and wine that attracts you? Being a local boy (Korean/Chinese/Hawaiian), I've always had a love for food. When wine entered my life, it took that to another dimension. When I approach a guest I have to know what they are eating before I make a wine recommendation. When we serve them the wine and they taste the food, their eyes light up. I love it!
With whom would you most like to sit down and share a bottle of wine?Anyone who would appreciate the wine.
You suffered a subdural hematoma (traumatic brain injury) a couple of years ago, brought on after a "pounding" while surfing. Your recovery was remarkable. Did the experience change you at all? Of course! You learn to appreciate life. But most of all you find out truly who your friends are by their support and mostly their love.
Where do you like to eat when you're not working? Oh, hole-in-the-walls are a favorite.
What's always in your fridge? I'm a bachelor, so lots of condiments.
Do you cook at home? Sometimes. Everyone loves my Caesar salad. I have a special bowl just for it. Entrees vary a lot depending on who's coming for dinner and what they like. I ask a lot of questions before people come to dinner and I create a menu. I love to try different recipes and experiment.
Favorite movie? Oh, too many. I like tearjerkers. I cry a lot. I think it makes you feel good.
What would surprise people about you? I love to draw and paint water-colors.
Most memorable glass of wine ... or two? A 1947 Chateau Cheval Blanc with the late Ms. Tanimoto, and 1947 Chateau Petrus with Russell Siu of 3660 On the Rise.
Most Recent Comment(s):