Randy Ching

By
.(JavaScript must be enabled to view this email address)
Friday - March 02, 2011
Share
|

Del.icio.us
|

Podcast
|
WineAndDineHawaii.com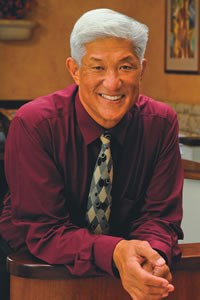 Occupation: Restaurant Director and Sommelier, Chef Mavro
Where were you born and raised? Born in Kahuku, graduated from Kailua High School. I'm a local country boy.
What started your love of this industry? My father was in the hospitality industry, and it seems in Hawaii that everybody is connected to one facet of the industry or another. I grew up loving local flavors - and eating.
I have a feeling you grew up eating well. Yes, my grandmother was pure Hawaiian, my other grandmother was Korean, one grandfather was Chinese, and they all cooked. My Hawaiian grandmother had a way of eating with her fingers - swirling poi from the bowl - that was so elegant, so delicate .... and I always remember smelling amazing aromas from the kitchen when I was young ... So I was surrounded by good food from an early age, and have a lot of memories that are not just about the food, but rather all the things that go along with the food.
What was your first industry job? At 15 I worked at the snack shop in Holiday Mart Pearl City. Then I went to Daiei ... (laughs) and on to Mauna Lani and eventually to Halekulani.
You were at La Mer for 21 years. Yes, that was a huge goal for me to work in a restaurant like La Mer. As a waiter, I was always trying to find the next best place to work, and at La Mer I thought I had reached a plateau because the staff there is so committed to quality. Those 21 years were always challenging and changing.
And now you're at Chef Mavro. Are you seeing a lot of familiar faces coming through the doors? Actually it's really refreshing - especially when people come to the restaurant and they don't know I'm here. We're having a lot of fun with that.
There's a lot of history of local food here at Chef Mavro. It seems to me that there's a story on every plate; that while it might be fine dining, it's also "local" food. Yes, I agree. I've seen Chef walk around the kitchen nibbling on the food the cooks bring in from home - and then seeing those things incorporated into his menu. Mavro is local! He's kamaaina and his mentality is very local.
Most Recent Comment(s):