Randy Schoch

By
.(JavaScript must be enabled to view this email address)
Friday - October 14, 2009
Share
|

Del.icio.us
|

Podcast
|
WineAndDineHawaii.com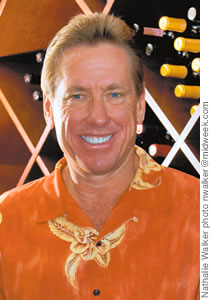 Title: CEO Desert Island Restaurants
Where were you born and raised? In Southern California, close to Pasadena.
What started your interest in the food and beverage industry? When I was in high school, I started bussing tables for a $1.35 an hour at a Mexican restaurant called El Charro. Then, when I graduated, I came to Hawaii because I was a surfer. First thing I did was look for a busboy job. The industry is such a part of the culture here in Hawaii. I loved it right from the start, and things just went from there.
You really have the great story of going from busboy to CEO. Yeah, it's true. I applied at Nick's Fishmarket for a busboy job when I first got here. But it was tough then. I had on a three-piece suit, I had two years of experience and I still couldn't get the job! I finally got hired at The Bistro in 1975, later worked at Rex's in 1977. By 1980, I was GM at Nick's Fishmarket, where I'd first tried to get work.
That must have been satisfying. It was kind of neat. I was a busboy, waiter, captain, assistant manager and then I went to open Raffles at Wailea for Westin, then came back to run Nick's Fishmarket.
Were you unusually determined or did circumstances help? I think it was a combination of things, but I was very determined. I had no safety net. I had to do well for myself.
Do you see that kind of determination today in young staff? I see it in some people. I'd love to mentor some of these young guys and girls. When I first bought a share in Nick's, I did it with just $1,000 - but I didn't do it on my own. People helped me, mentored me, and I picked a lot of people's brains. I'd like to be able to give that kind of knowledge back. To be successful, you need a little mentoring and you need the desire to succeed.
Where do you like to eat when you're in Honolulu? Well, usually I call you and ask you where to eat! I love all the local spots. I go to 12th Avenue Grill. I always go to Roy's and see Diva. I'll go to Alan Wong's, 3660 On the Rise, and I love the little plate lunch spots.
What's always in your fridge? Shoyu, tofu, soybeans, cottage cheese, fresh fruits. Pretty healthy stuff.
What's your idea of a great night in? My wife makes this dish of roasted red peppers with anchovies with garlic bread and risotto. We have that with a good bottle of red wine and watch a movie. That's a great night for us at home.
Who would you most like to invite to Ruth's Chris for dinner? My mom - she passed away before she saw me do well at all. And I'd have Thomas Jefferson and Father Damien - that would be a fascinating dinner party. My mom would be the spunkiest of the bunch.
Anything that might surprise people about you? That I'm still just a glorified busboy. I still sometimes wonder if I'll ever have to go back to bussing tables. My wife and I have never forgotten where we came from.
Most Recent Comment(s):