Raymond Chau

By
.(JavaScript must be enabled to view this email address)
Friday - December 29, 2006
Share
|

Del.icio.us
|

Podcast
|
WineAndDineHawaii.com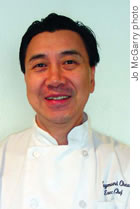 Raymond Chau
Raymond Chau was born and raised in Hong Kong, and moved to Amsterdam when he was a teenager. He came to Hawaii more than 20 years ago and has been involved in the restaurant industry ever since.
Title: Chef/owner XO Seafood.
What started your interest in the food industry?
I had an uncle who owned several restaurants in Amsterdam, and when I was 16 I traveled there to work with him. I started as a dishwasher, and studied and worked in Holland for 12 years before moving to New York.
How did you end up in Hawaii?
I worked for a couple of years in New York and soon decided that that kind of city was not for me. I passed through Hawaii on a trip and I loved it. It was not difficult to decide to move here.
Your style of Chinese cooking is quite different from most chefs in Hawaii. How did it develop?
All my life I've worked in different hotels and restaurants in many different countries. What you learn is a number of different techniques and skills from many chefs. In Hawaii today many chefs are doing fusion, and basically I'm doing the Chinese version of that.
Do you think people expect more from traditional Chinese restaurants nowadays?
Yes, people are much more sophisticated when they eat out. Of course, they still want to see the traditional dishes on the menu, but I think they like to see some exciting dishes on the menu too.
What do you recommend when people come to XO for the first time?
I think that the honey walnut shrimp is a good example of a dish that we do that people love very much - and I think that our fish is good. We don't cook the whole fish in the traditional way, but we cook the filet without bones and steam it in the traditional way with ginger and green onions. We make our own soy sauce from a combination of Japanese, Thai and Chinese ingredients, so I'd encourage people to try that.
Are you always checking out different dishes in different restaurants?
Yes, when I have time! When you work for a long time in the kitchen you get used to flavors and spices. When I see something that really impresses me I try to put my own style on it. I've spent a long time developing my own style.
Where do you like to go eat?
Right now it's hard to eat out - I'm too busy working. But the other night I went to Chart House with my friend. I love their Oysters Rockefeller. That's the kind of place I enjoy eating.
What's your personal favorite dish on the menu at XO?
I would have to say the honey walnut shrimp, and probably the lamb. There aren't too many Chinese restaurants serving lamb!
Most Recent Comment(s):