Rebecca Fineman

By
.(JavaScript must be enabled to view this email address)
Friday - February 02, 2011
Share
|

Del.icio.us
|

Podcast
|
WineAndDineHawaii.com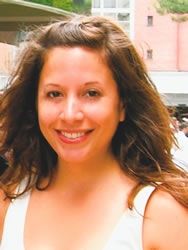 Occupation: Wine Manager, Brasserie Du Vin
Where were you born and raised? I was born in New York City, raised in the suburbs, specifically Bronxville, the village within the town of Yonkers, in the county of Westchester.
What started your interest in wine? When I was in graduate school, I started working in restaurants. I helped open a tapas bar in New York City and that piqued my interest. Soon after I went to Napa Valley and started asking questions - and the more questions I asked, the more questions I had. You know how that goes!
Do you think you've found your passion in wine? Yes, I do really love it. That's what brought me back to Honolulu. In New York, I worked in a very food-focused restaurant, Mas (farmhouse), in New York, where the farmers came in during the day and talked to us as they dropped off food. The wines were from small production wineries - all of that helped to fuel the passion.
I hear you're starting wine classes again at Du Vin. Yes, behind the Cellar Door is a series of classes we hold on Tuesdays at Du Vin. We'll be exploring various topics on wine: an introduction to ... things like how to navigate a wine list ...
Do you cook at home? I'm more of a baker.
What's always in your fridge? Almost never any "food," but lots of butter, eggs, milk. I like to make bread, pasta, ice cream, cookies ...
Oh, what's a good wine to pair with a cookie? It depends on the cookie, but a sweeter-style sherry would work well. And maybe a sweeter Riesling.
Favorite restaurants? Any good hole-in-the-wall. Anywhere with fresh noodles, like GoShiGo on Keeaumoku Street. And I really like town restaurant for its farm-to-table concept. And I eat Korean food a lot - a lot.
Favorite wine gadget? A really good wineglass - a Montrachet glass is perfect. And I like the corkscrew with an elbow.
Most Recent Comment(s):