Richard Velazquez

By
.(JavaScript must be enabled to view this email address)
Friday - December 05, 2008
Share
|

Del.icio.us
|

Podcast
|
WineAndDineHawaii.com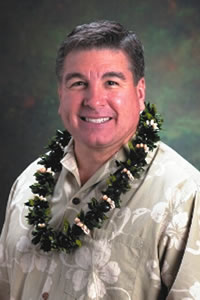 Title:
Regional manager, AAA Hawai`i
Where were you born and raised?
Small town of Ojai, north of Los Angeles and just south of Santa Barbara. It's a beautiful, small community sprinkled with celebrities and artists where everyone seems to know each other. It reminds me of Hawaii.
What started you on your AAA career path?
Nearly 30 years ago I started as a greeter, helping member map routes and booking vacations. Through the years various opportunities came up in different areas, and I relocated to Hawaii in 1996.
For many, AAA is associated with auto insurance and road travel, but it's so much more than that.
Yes, we are so much more - we have experienced travel agents who provide personalized vacation planning, and our member discount program offers discounts and savings on everyday retail services by simply showing your card.
One of the "non-auto" sides to AAA is the 5 Diamond Award system where hotels and restaurants are recognized for excellence.
Yes, and we now have three properties and two restaurants in Hawaii with the AAA 5 Diamond Award rating for 2009: Chef Mavro, Four Seasons Resort Hualalai, The Ritz Carlton, Kapalua, Four Season Resort Maui and La Mer.
It's a tough award to win, don't you think?
Yes, it's not easy. The restaurant visits are all conducted anonymously and even though we know the winners well in advance, we are sworn to secrecy. Achieving the award shows a certain dedication to excellence in hospitality.
Where do you like to eat when you're not fine dining?
Lots of places, and they include noodle shops, sushi restaurants and burger places. It depends on my mood. What I most enjoy about eating out is running into people we know. That's one of the joys of living in Hawaii.
Any suggestions for dining out in AAA-rated restaurants or others?
I love food that can be shared. I've been to dinner many times without ordering a single entrée. Ordering various dishes and sharing can be a fun way to eat - and you can taste more on the menu in smaller portions.
How can people find out more about AAA's top-rated restaurants in Hawaii?
All the restaurants are listed in the AAA Tourbooks and at AAA.com And if people just want to call our office (593-2221), we can provide the current list. I'm also hosting a cruise this summer, and people are welcome to stop by and find out more about that!
Most Recent Comment(s):