Robbie "Rbz" Acoba

By
.(JavaScript must be enabled to view this email address)
Friday - February 16, 2011
Share
|

Del.icio.us
|

Podcast
|
WineAndDineHawaii.com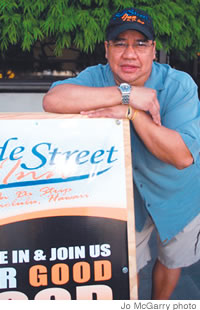 Occupation: Operations Manager, Side Street On Da Strip (Kapahulu)
Where were you born and raised? The Friendly Isle of Molokai. When people ask, I always tell them I went to private school because Molokai High and Intermediate is the only school there.
What started your interest in the food industry? I was at KCC and I started working at Kahala Hotel because I thought being a busboy would be a good way to make money.
Did you take to it right away? Yes. It was the people who made me love it so much. And in the 1980s we had all the famous people staying there at the hotel, so that was fun.
Any favorite stars you remember? Elton John, Nancy Sinatra, Richard Pryor, Bill Cosby - they were all nice and funny, too. Mostly.
So usually when a new restaurant opens, there's a bit of a rush, then things quiet down. Not here. Any tips on how to get in? If you make a reservation about a week and a half in advance, you should be good. We take reservations from 3 to 7 every day, and we're usually about a week out already. And you can always walk in. There might be a wait, though (laughs).
What is it you think people love so much about the restaurant? I think it's the food, but it's also the staff. They treat people so nicely, and people feel comfortable here. There's a lot of people-watching, a lot of good food.
Favorite dish? The poke.
Fried rice and pork chops are the known bestsellers. I hear you have cooks who do nothing but cook rice. Yes, the kitchen is all divided into sections. If you're on pork chops or fried rice, that's all you make all night.
Do you cook at home? Yes, I love to cook at home. I love Italian food like lasagna, but I'm a local boy, so I love my Vienna sausage and Spam - you can't go wrong with hot rice, or Spam and onions.
Who would you most like to see come into Side Street for dinner? My son Bryson and Magic Johnson. We are huge fans. And maybe Lynn Swann from the Steelers.
Many times when I ask people where they like to go when they're not working, they say Side Street. Where do you like to eat when you're not at work? Well, it's hard, you know (laughs). But I like to go to Macaroni Grill and sit and hang out with the bartenders there, and, of course, Rainbows for the mixed plate.
Most Recent Comment(s):