Robert Bauer

By
.(JavaScript must be enabled to view this email address)
Friday - October 07, 2009
Share
|

Del.icio.us
|

Podcast
|
WineAndDineHawaii.com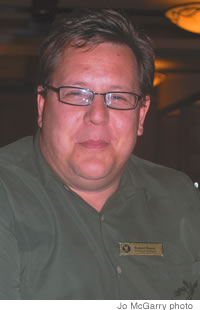 Job Title: Restaurant Manager, Kani Ka Pila Grille, Outrigger Reef on the Beach Waikiki.
Where were you born and raised? Williamsport, Pa., home of the Little League World Series.
Now that must be a big deal! Yes, it's the biggest thing. The town has a connection to the world. To see Hawaii win it was really incredible.
What brought you to Hawaii? I came in 2000 to visit a friend and I loved it. I went back to the Mainland, but I just fell in love with Hawaii - I couldn't get it out of my mind. I'd been in snow most of my life and here the passion set in. There's something about the light in Hawaii that is incredible.
What started your interest in the food and beverage industry? I went to culinary school and always worked in restaurants. My father had a bar and grill when I was younger, and I worked there from an early age. I worked in New Orleans for Emeril Lagasse, worked my way through lots of different restaurants. I've been in the business my whole life, pretty much.
Do you prefer front of house to the kitchen?
Well, I like both, but I really enjoy meeting people. It's just the talking to people, I think. I can immediately connect because I've lived so many places. I find it easy and enjoyable to deal with people.
Do you cook at home? Yes. We eat at home a lot and my wife, who is Japanese, does a great job cooking, too. I love to cook.
What's for dinner on a regular night? Oh, I like to use local ingredients, just fresh and simple: fish with lime juice, local tomatoes, corn ... that sort of thing.
What's always in your fridge? Apples and fresh fruits.
Where do you like to eat out? Side Street is a great place. Roy's, Alan Wong's ... we love Phuket Thai. And we like the little hole-in-the-wall Korean and Japanese places that I can never remember the names of.
Who'd you most like to see come to Kani Ka Pila Grille? Jack Johnson. We have some great musicians here every night. We have a great venue. I've liked him since the moment I heard him. Jack would be cool.
Anything about you that might surprise people? That my real passion is in the kitchen, and that's where I shine.
Most Recent Comment(s):