Robert Miller

By
.(JavaScript must be enabled to view this email address)
Friday - October 06, 2006
Share
|

Del.icio.us
|

Podcast
|
WineAndDineHawaii.com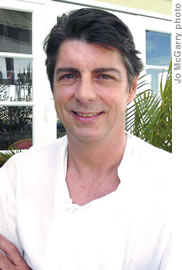 Robert Miller
Robert Miller is the executive chef at the newly opened Tower Grill at Aloha Tower Marketplace. The restaurant has an open air lanai with views across the harbor and features American Bistro style food. Miller is a graduate of the prestigious Johnson and Wales Academy and was a classmate of Emeril Lagasse. Here he talks about his award-winning ribs, what Emeril was like in class and what he'd be if he wasn't a chef.
Name Robert Miller Age 47 Title Executive Chef
What started your interest in the food and beverage industry?
My mom. I was always interested in what was going on in the kitchen, and she persuaded me to attend culinary school.
Where were you born and raised?
New England - Waterford, CT.
Professional schooling?
I attended the Johnson & Wales School of Culinary Arts in Providence, R.I.
How would you describe your style of cooking?
I can't really describe a "style," but I can do a little bit of everything. At Tower Grill we call the style American Bistro. It's a lot of fresh fish, salads, pasta dishes, steaks and of course ribs.
What are some of the dishes on the new menu that you think everyone should try?
Hamakua Mushrooms, Nicoise Salad, Ahi Club, St. Louis Ribs and Steamed Opakapaka.
How'd you come up with that great recipe for ribs? (Miller earned Sunset Grill the award, Best Ribs in Honolulu, when he was executive chef there and before the new owners took over.)
After cooking hundreds of pounds of ribs a day at Davey Jones' Ribs for years, I perfected the dry rub and it came together with the sauce we used at Sunset Grill.
Who's had the most influence on your career so far?
Chef Philippe Padovani. I worked with him when he was at the Halekulani.
Which living chef do you admire most?
Emeril Lagasse. He was a classmate of mine at Johnson & Wales.
How was Emeril in school? Could you see that he had star quality back then?
Emeril and I had 'bake shop' together and I got an A in the class. I think he was a little jealous! Seriously, though, you could tell he had something special, even back then.
Who'd you like to invite over to Tower Grill for dinner and why?
My dad. He's on the mainland and I haven't seen him for a while. I would love to cook for him.
What's always in your fridge?
Apples, fresh fruit, milk, yogurt.
Where do you eat when you're not at work?
I'm always at work (laughing).
Favorite late night snack?
I eat my son Joey's Gummy Bears.
If you weren't a chef, what would you be?
Probably a mechanic. I liked working on cars when I was a kid. I've changed a lot of engines in my time.
Most Recent Comment(s):