Rodney Uyehara

By
.(JavaScript must be enabled to view this email address)
Friday - December 01, 2006
Share
|

Del.icio.us
|

Podcast
|
WineAndDineHawaii.com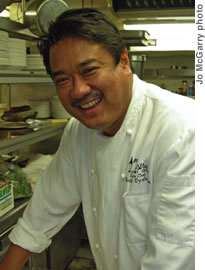 Rodney Uyehara
Rodney Uyehara is executive chef at The Bistro at Century Center. He trained at the Culinary Institute of America in New York, and worked at the prestigious Aureole restaurant before returning to Hawaii. At The Bistro, he serves a combination of European-influenced dishes, served in fine-dining style. One of the great value lunches ever, The Bistro serves a $15 lunch entrée that can cost up to three times as much at dinner. Uyehara and his staff want to make the fine dining scene approachable and accessible to everyone.
Age: 45
Where were you born and raised?
In Hawaii - I graduated from Kaiser High School and KCC.
What was your first job in the industry?
I worked at Magoo's in Waikiki, making pizza.
What sparked your interest in the food and beverage industry?
The feedback. When I worked in the pizza restaurant I'd get a lot of comments about the food - people gave me a lot of compliments, and that was very encouraging. Really, it was customer reactions that made me go further into the business.
Who would you say had an influence on your career?
I'd say that Bob Chinen, one of the instructors at KCC, was a big influence. He really helped me a lot.
The Bistro serves some pretty fine food - and the service is seriously fine-dining style. Where do you like to eat when you're not working?
Oh, I like to eat where everyone else eats - Side Street, of course!
Favorite dishes there?
Pork chops, fried ahi, I love everything that Colin (owner Colin Nishida) does. When we're there, we try everything.
Favorite movie?
It's A Wonderful Life.
What's always in your fridge?
White wine (laughs), milk for the kids - we're never without that.
Do you eat when you finish work ?
Because I work so late I don't want to eat a heavy meal when I come home, so what I tend to do is make soup. I'll usually have a pot of chicken and squash or vegetable soup ready, so it's easy to eat late but not a heavy meal.
With whom would you most like to have dinner?
Tiger Woods.
Any advice for young people ready to enter the business?
I would say when you first start off you have to be able to take a lot of criticism - there's a lot of yelling in a kitchen. You have to see criticism as a positive thing and not a negative. If you can do that, it will make you work harder and try harder.
Most Recent Comment(s):