Ronnie Nasuti

By
.(JavaScript must be enabled to view this email address)
Friday - April 06, 2007
Share
|

Del.icio.us
|

Podcast
|
WineAndDineHawaii.com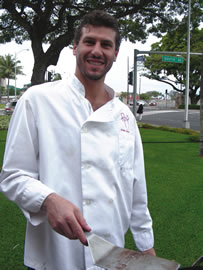 Ronnie Nasuti
Ronnie Nasuti is the executive chef at Roy's Hawaii Kai. If you've dined there in the past few years, you've seen him - he's the tall, dark, handsome guy who towers over almost everyone else in the open kitchen and who helps keep the energy flowing. Passionate, talented and committed, he's one of the next generation of chefs in Hawaii charged with keeping us on the culinary cutting edge.
Age: 37
Where were you born and raised?
Franklin, Mass. It's a small town about 35 miles southwest of Boston.
When did you decide the culinary arts were for you?
I was 13 when I knew I wanted to cook. I was the youngest of four and we all shared duties in the kitchen.
What inspired your love of cooking?
We ate really well when I was growing up. My dad was a fantastic cook. My mom was pretty and popular, and she didn't really need to know how to cook - but he taught her. He made incredible food and he loved being in the kitchen. He died when I was 8.
What dishes do you remember from your childhood?
My dad used to make these giant meatballs - they were about 10 inches in diameter - and he'd cook them all day in tomato sauce and then slice them up to make meatball sandwiches. He was home much of the last two years before he died from cancer, so I have lots of memories of him cooking for us.
When did you begin working at Roy's?
I moved to Hawaii after a friend of mine told me to get out of the small town I grew up in. I worked for Kincaid's and was aware of the growth of Roy's. I started working at Roy's as a second job, and I aggressively started to learn every station. I wanted to learn everything I could. I went to work in Poipu and then came back to Hawaii Kai as executive sous chef.
What's with all that energy in the kitchen at Roy's?
I know! I used to love that, too, whenever I came here to eat. I'd look back there (at the open kitchen) and think 'I want to work there!' The energy comes from the pace and the production - and the stress level!
How about mentors?
I'd say that Jackie Lau (corporate chef, Roy's Hawaii) is right up there. She works harder than anyone I've ever known. She's incredible to work with - and she expects everyone to keep up with her, although I don't know anyone who can.
What would we always find in your fridge?
Kim chee. We have a kim chee refrigerator, because we have at least 10 different kinds at any one time. My wife is Korean, and I lobbied for a separate refrigerator when we built our house.You'd also hopefully find some beer.
Most Recent Comment(s):