Ryuji Murayama

By
.(JavaScript must be enabled to view this email address)
Friday - April 20, 2011
Share
|

Del.icio.us
|

Podcast
|
WineAndDineHawaii.com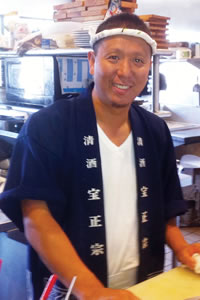 Occupation: Sushi chef, Tokkuri Tei Restaurant.
Where were you born and raised? I was born in Japan and came to Hawaii when I was 3 years old.
What started your interest in cooking? My uncle owned Sada's Japanese Restaurant. It was a family business, so I worked there from when I was young. My first job was washing dishes when I was about 12.
At what point did you decide that sushi would be your specialty? When I was in high school, my mother asked me, "You think you can be a lawyer?" I said no. "You think you can be a doctor?" I said no. (laughs) So I dropped out of high school and went to Japan to train. I stayed for three and a half years.
There is a difference, I think, between sushi chefs who have gone through the discipline of training in Japan, and those who have not. There's a Japanese saying, "If you have hand skills and one knife you can travel the world." It's true. I can take my knife anywhere and have work.
I know you work so much, but where do you go to eat when you have time off? Dim sum at Fook Lam in the Chinese Cultural Plaza is really good. And the dumplings at that new place Jin Din Rou are the best of their kind.
Do you cook at home? I try not to.
What's always in your fridge? Beer. Also gotta have rice and tsukemono.
I think you are so passionate about sushi that it comes through in almost every bite!
To me, you have to love what you do. Sushi is it for me. I sacrifice everything for this job. I wake up early, come in and work and don't go home till night. I never take off. This job is my passion. My life.
Most Recent Comment(s):