Sal Bruno

By
.(JavaScript must be enabled to view this email address)
Friday - December 01, 2010
Share
|

Del.icio.us
|

Podcast
|
WineAndDineHawaii.com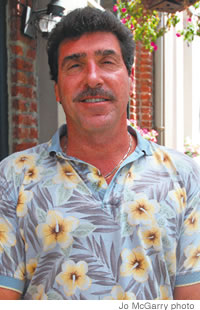 Profession: On Premise Sales Manager, Paradise Beverages.
Where were you born and raised? Born in Tucson and raised in Brooklyn. I came to Hawaii in 1989.
What started your interest in the food and beverage industry? Like a lot of people, when I graduated college I had no real idea what to do. I interviewed with Seagrams and was offered a job, and I took to it right away.
What are some of the tricks of the trade? Most of the job is about selling yourself, offering really good service — and having a lot of energy!
Favorite places to eat and drink? (Laughs) My job is about going out, so there are really too many to mention! I would be remiss if I didn't mention Chart House — a wonderful place to go. Side Street, 3660 — the usual places that are fun, with good food and great staff. I live in Kailua, so I sometimes go to Kailua Town Pub. Actually, I love going out. The trick I learned long ago is to pace yourself. When I do stay home I love to cook, mostly Italian food. I have a specialty dish that people love: It's a traditional sausage and pepper dish. I've embellished it with potatoes and peas … lots of garlic.
What's always in your fridge? Surprisingly, not much alcohol. I always have to have garlic, onions and olive oil, the staples of Italian cooking.
Who'd you most like to sit down and have a beer with? Bill Clinton. He is a real character, and I think he would be such an interesting person to talk with about almost anything. I'm not really a political guy, but I think it would be an enjoyable conversation.
Anyone been a big influence on you thus far? My dad. His work ethic, for sure. He worked two jobs his whole life to take care of us. His influence stayed with me, and I still take care of my mom.
Can you suggest something that we might want to try this holiday season? Most of the craft beer suppliers make Christmas beers every year, and they are only around for a short period of time. They are wonderful, spiced, hoppy Christmas ales, and because they're only available at this time of year, they make for great pairings with holiday food — and as gifts for beer lovers. Microbrews and craft beers have such strong characteristics that it's fun for people to taste different ones and find out which flavors they like.
Most Recent Comment(s):