Sam Choy

By
.(JavaScript must be enabled to view this email address)
Friday - July 21, 2006
Share
|

Del.icio.us
|

Podcast
|
WineAndDineHawaii.com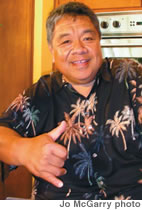 Sam Choy
Sam Choy is the most recognized chef to come out of Hawaii. Over the past few years his numerous TV appearances with Food Network's Emeril Lagasse and on The Iron Chef, coupled with appearances on the Mainland, book signings, celebrity cooking appearances and cruises, make sure he's busy - and getting more famous by the minute.
How did you first get started in the business?
Oh, right from the beginning my family had a restaurant. My dad started it and that's how I got introduced to the business. Then later, I guess sometime in the early 1980s, I opened Sam's Place out in Laie. It's still there, you know - it's The Hukilau Café now and my cousin owns it. So really my dad introduced me to it all and I took a liking to it, and especially the artistic side of food. I liked how you could take something and change it and give it to people and they'd be really happy. It's been years now since it all started - I'm thinking at least 150 pounds ago (laughs).
Where did the food background come from in your family?
My mom and dad both loved to cook. My mom was German Hawaiian and my dad was Chinese, and they both could cook. On holidays we'd have these huge events and my mom and dad would cook, and my mom made sure that the tables were perfect and that everything looked just right. Food celebrations were always big in our house, and I learned to cook from there. I could cook blindfolded these days because I learned so much when I was young.
You travel so much. Do you still like to cook at home?
Oh, I love it, love to cook at home. My kids are fishermen - not commercially - just great sport fishermen, so there's always fresh fish in our house. I like to make poke and I like to do fish in different ways - look at it differently. For example, I'll make a fish Kiev instead of chicken, and I like to make chicken sausages. I like to debone turkey, too, when I cook it. And of course, I love the real plantation food dishes.
What's always in your fridge?
Lately there's a lot of fruit, veggies, salads, that kind of thing. Of course, there's always Best Foods mayonnaise, and there's diet soda and juice. That's it, really, because everything else is just fresh food.
You've met so many famous people on your travels. Who'd you most like to sit down and have dinner with?
Oh, my mom. Because with her it wasn't just about the food, it was about the talking story too. She was such a great storyteller; there was nobody really like her. She raised herself and her brother from when she was about 13. When she talked story, you'd feel the hair standing up on your arms.
One night I remember we were having a barbecue on the beach and she started telling us how she could remember a night just like this, with the moon up high and the feeling of lots of spirits walking around ... and it was so real to us that I just said 'Mom, let's go home, now!' (laughs).
Where do you like to go eat?
I like Japanese food - you know, those small places with real food. I love Tokkuri Tei. I think that Santa (the chef) is real cutting edge and his food is just great. I love the grilled tongue that he does, the tofu with the white sauce, and the salmon skin. Oh, I love the salmon skin!
Most Recent Comment(s):