Sam Eligio

By
.(JavaScript must be enabled to view this email address)
Friday - August 31, 2007
Share
|

Del.icio.us
|

Podcast
|
WineAndDineHawaii.com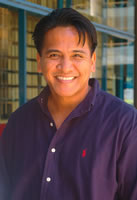 Sam Eligio
Title? Operations Manager
Age? 40
Where were you born and raised? Guam.
What was your first industry job?
I was a host at King's Restaurant in Guam, it's like the Zippy's of Guam.
What was the original concept behind Shokudo?
Japanese fusion dining with a touch of Americana. Japanese casual dining is still considered a new market, there really aren't a lot of casual dining establishments in Japan. We wanted to include all ethnicities (Japanese, Chinese, Korean, etc.) We took the concept of Japanese dining and casual dining (like TGI Friday's) and the two sparked a good combo.
What would people be surprised to find out about Shokudo?
When customers first enter, they think the prices are going to be expensive but customers become pleasantly surprised because it is affordable. Also, people think that Shokudo will be run Japanese style, but it's Japanese with American influence. People are also surprised with our service - it's not your typical formal traditional Japanese restaurant. Also, people are amazed and impressed with the décor!
What's your favorite dish on the menu?
The garlic steak on the American side, and on the Japanese side of the menu the oxtail ramen is my favorite.
Where do you like to eat out?
Since I am in the restaurant most of the time, I like to cook at home, but I do indulge at Teddy's Burgers once in awhile. I guess it really depends on my mood. I also really like our new seasonal item, the Tokyo Ramen - Ramen noodles with a shoyu base.
What's always in your fridge?
Kim chee, soy milk, salad mix, garlic and frozen pizza.
Who would you most like to see come in for dinner?
My entire family, my mom and dad, three brothers, two sisters and all of their kids. It would be so great to see them.
Who has inspired you in the restaurant industry?
My first G.M., Vicky Goldsmith, with the Pizza Hut chain in Guam. She had such tight management fundamentals. She made me appreciate all aspects of the business.
How does the dining scene in Japan differ from Hawaii?
In Japan, there is such a huge diversity of traditional Japanese food. In Hawaii, we are exposed to Western influences, and dining can be more casual. Japan is more formal.
Most Recent Comment(s):