Scott Higa

By
.(JavaScript must be enabled to view this email address)
Friday - August 03, 2011
Share
|

Del.icio.us
|

Podcast
|
WineAndDineHawaii.com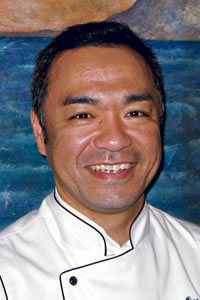 Occupation: Director of Food & Beverage /Executive Chef at Ihilani Resort & Spa.
Where were you born and raised? Born in Los Angeles and raised in Japan until I was 13, then back to LA.
What started your interest in the food and beverage industry? I started off as a dishwasher/prep cook and was inspired by the chefs I saw around me.
First kitchen memory? Peeling 15 cases of shrimp and two cases of baby artichokes.
What dish reminds you most of home cooking? Any kind of braised meats or stews.
Do you cook at home? Yes, I cook most of the time at home. I cook a variety of things, but there's always lots of sautéed vegetables on our home menu.
What's always in your fridge? Fresh vegetables and tofu.
Favorite local restaurant? Royal Garden at Ala Moana Hotel for their fried rice and dim sum.
How do you describe the food at Azul? Less is more is the philosophy behind Azul, so the main emphasis is on top quality of ingredients, with as much locally grown food as possible.
If you could have dinner with anyone, who would it be and where would you go? Michiba Rokusaburo, one of the first Iron Chefs representing Japan. I'd like to go to an izakaya, drink good sake, enjoy the food and chat with him about cooking. He was in his 60s at the beginning of the Iron Chef series and was incredibly creative and open to new ideas. I was truly inspired by him.
What's the most challenging thing about a job in the culinary field?
Keeping up with trends and at the same time maintaining the quality.
Anything about you that might surprise us?
I love cars, and I take piano lessons with my son.
Most Recent Comment(s):