Scott Okimoto

By
.(JavaScript must be enabled to view this email address)
Friday - December 23, 2005
Share
|

Del.icio.us
|

Podcast
|
WineAndDineHawaii.com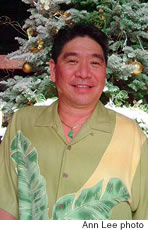 Scott Okimoto
Title: General Manager, Chart House
Age: 49
Where did you go to school?
St. Louis High School and KCC.
First professional position?
Bag boy at Star Market Pearlridge at the age of 15, back in 1972.
Who has influenced you most in your career and why?
Joey Cabell, the owner of the Chart House - he is definitely the wisest man I have ever met. He has his priorities in life straight and great integrity. He's taught me a lot of life lessons. And Charlie Beck - Mr. Reality Check.
Favorite dish at your own restaurant?
It changes. Whenever the chef offers a new special, I end up eating it for two or three weeks straight. But definitely our prime rib.
Favorite dish at other Hawaii restaurants?
Russell Siu's Ahi Katsu at 3660 on the Rise, and Colin Nishida's Pork Chops at Side Street Inn.
What's always in your fridge?
Pickled Japanese vegetables, Kohala kim chee and vitamins. Lots and lots of vitamins.
Favorite late-night snack?
Black Velvet Reserve on the rocks.
Who would you most like to host at dinner in your restaurant and why?
My father - he passed away 10 years ago and it would be nice to see him again.
What do you think makes Chart House so successful?
Our location, the consistency of our food, our owner, Joey Cabell, and most of all the team-work within our crew. We have a lot of "we's" and very few "I's."
Favorite pupu from Chart House's incredible selection?
Kimmi's Firecracker. It's a combination of layered rice, chili mayo, ahi poke and slivers of Korean nori.
Do you have a favorite Chart House story?
Our waiter, Aaron, popped a champagne cork in the dining room and it hit the ceiling and landed on one of our female customer's chest. To put it delicately, she was very well-endowed, and the cork landed right in her cleavage.
Best way to deal with difficult customers?
Kill them with kindness! Pay attention to them as well as the problem.
Best part of your job?
It's a really rewarding job. You take an idea and talk about it, then you implement it and see it working. The whole process is really interesting.
I'm a people person, and the people I meet are great. The employees are wonderful. We have many industry all-stars here. A very impressive group.
Most Recent Comment(s):