Sean Priester

By
.(JavaScript must be enabled to view this email address)
Friday - June 02, 2010
Share
|

Del.icio.us
|

Podcast
|
WineAndDineHawaii.com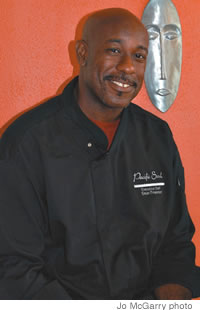 Occupation: Chef/owner Soul restaurant and Soul Patrol.
Where were you born and raised? Born in Atlanta, Ga. My dad was in the Army, so we moved around a lot. North Carolina is where I went to high school and college.
And the move to Hawaii? When I left North Carolina and went to California, I got a call from a buddy who asked me to come to Hawaii. This was back in 1990.
I got a studio on the beach and started working in a restaurant. I also knew there was a food movement beginning and I started paying attention to Hawaii Regional Cuisine. There was a great energy around food.
You just opened your own restaurant, Soul, on Waialae Avenue. Tell us about the food. Well it's not typical Southern food. I'm not trying to sell it as typical Southern cuisine, rather food that's prepared in a certain conscious manner. It's soul-influenced - non-traditional soul, neo-soul, vegetarian soul. I'm having fun with the genre.
What to order for those who don't know your food? The pulled pork slider, maybe ... the Eastern style of barbecue in North Carolina has that vinegar base, so that's what you get with the sliders, on a biscuit with a buttermilk cilantro coleslaw. Or there's shrimp and grits, or seafood gumbo with Gulf rock shrimp and local kukui sausage that we also serve with grits. I talk about this gumbo and I get really excited about it. It tastes so good.
OK, so what is it about gumbo that makes people so passionate? (Laughs) There's a whole lot of history and a whole lot of romance about those regions where gumbo originates. And it's just not that available, so people love to eat it here. People say that mine isn't traditional, but it's about putting ingredients together that should be there - and how they work on the palate.
Whom would you most like to see at Soul for dinner? I think my peers. I'm fortunate to be friends with many of them - Ed Kenney is a good friend and he'll tell me when something's not right. I look for honest feedback, and I think that getting from peers is a little less ego-deflating.
Do you cook at home? Cooking at home is very stressful for me. There's a performance element that I take home with me. I'd just much rather cook here at the restaurant, where it's somewhat Zen like ...
What's always in your fridge? Ginger ale. I have sampled every one I can get my hands on. The one at the KCC farmers market is the greatest.
Favorite kitchen gadget? Probably my spice grinder. It's just a nice coffee grinder, but it's really important. Using whole seeds is the way to go if you really want to get the right flavors.
I know that as well as running the restaurant and Soul Patrol, your lunch wagon, you're really committed to social enterprise. It's one of the business models that I always like to bring to the table. In conjunction with H5, I'm able to use Soul Patrol to feed the hungry once a week. I want to be able to feed people who need to eat.
Most Recent Comment(s):