Sergio Mitrotti

By
.(JavaScript must be enabled to view this email address)
Friday - May 02, 2008
Share
|

Del.icio.us
|

Podcast
|
WineAndDineHawaii.com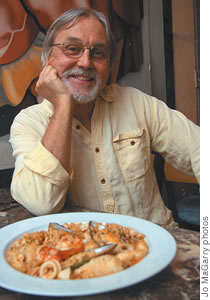 Title: Owner, Café Sistina.
Where were you born and raised? Turin, Italy.
What sparked your interest in the food and beverage industry?
My family all cooked - my mother, my grandmother and I have always loved food. I'm an artist, and the two go together.
I started cooking when I was a teenager so I could get away from my mom's control. My parents had a house in the country, and they didn't want to leave me in the city if I couldn't cook. Once I learned to cook for myself, they would leave me - and then I'd invite my friends to come over for dinner.
How did Café Sistina come about?
I was in Beverly Hills working in design and I was known for my cooking and for my "challenges." I would challenge people in the media to go to their homes and cook with whatever was in their cupboards. Now I believe that idea has become a TV show! Anyway, I moved to Hawaii after that, saw a need for good Italian food and opened a restaurant.
You've been painting replicas of Michelangelo's masterpieces ever since the restaurant opened 18 years ago. Are you almost done?
(laughs), No, there's a space over there, and a couple of things that need painting still.
What ingredient is essential to Italian cooking?
Olive oil, first of all. Without that, you cannot start. Almost every recipe starts the same way, like a fairy tale: "In a pan, put olive oil, garlic and onions." Those ingredients are the basics of Italian food.
With whom would you most like to have dinner at Café Sistina?
Michelangelo - I think he'd feel quite at home here. We could share a good bottle of wine, too, because he was a drinker. Not a great eater, I believe, but a good drinker.
Do you eat out often?
No, I don't. I don't eat too much nowadays. I taste everything all the time - hundreds of thousands of meals I've cooked, and I feel that I don't know how to sit down and eat anymore. I pick an olive here, a slice of proscuitto here, a tomato there - that's mostly how I eat now.
What gives you the most joy in life?
For me, joy comes from creating. Creativity is the mother that pushes me ahead.
Most Recent Comment(s):