Sergio Mittrotti

By
.(JavaScript must be enabled to view this email address)
Friday - December 09, 2005
Share
|

Del.icio.us
|

Podcast
|
WineAndDineHawaii.com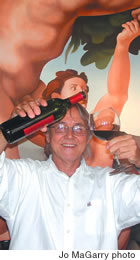 Sergio Mittrotti
Title: Chef and owner of Café Sistina
Age: Early 60s
Where did you go to school?
Graphic Institute and Art Academy in Italy. My training is in art. I'm self-taught in cooking, the best teacher is understanding the culture of the food, eating and having a love for food.
First professional position?
Twenty-five years ago in Beverly Hills I had a high-end retail clothing store. My clients requested I host and cook for them. They consisted of well-known producers, actors and actresses. I also did press parties and although it wasn't a paying job, it eventually led to opening my first restaurant.
Who has influenced you most in your career and why?
My mother. Italian men are not so macho when they are young, and I would help my mother and grandmother in the kitchen until I was a teenager.
Favorite dish at your own restaurant?
Hard to decide. I consider each dish like my own child, so I cannot choose one. Perhaps I would recommend Venison Ragu on Pappardelle Pasta.
Favorite dish at other Hawaii restaurants?
Pho at Old Saigon Noodle House, because of its simplicity and cleanliness.
What's always in your fridge?
Fruit - grapes and pears - and good coffee.
Favorite late night snack?
I'm very conscious of my health so I try not to eat after 8 p.m. Walnuts or fruit would be my preference.
For whom would you most like to host a dinner in your restaurant - and why?
Michaelangelo, because my job as a chef is to provide food for people and teach them about food. I would like to show him my interpretation of his artwork and hear what he thinks of the design of the restaurant - and of my cooking.
What do you think makes Café Sistina successful?
This restaurant was born with intent to show cultural aspects of my country and the love I have for cooking. This was not created to be a commercial money-making machine. When you visit here, you can feel the energy, love and dedication from my heritage.
Do you have a favorite Café Sistina story?
When I first opened the restaurant, the walls were white and bare. All of the artwork that you see now was a vision in my head. In between opening for lunch and dinner I completed the murals. It's taken 15 years, and it's still not really finished!
Best part of your job?
Creating something new. I need to be a real representative of my heritage, my spiritual beliefs, and an ambassador of my culture as well to people who love Italy and Italian food. I get to introduce my beliefs to people who have not experienced my culture and share my passion and love of cooking with them.
Most Recent Comment(s):