Sharon Peterson

By
.(JavaScript must be enabled to view this email address)
Friday - January 26, 2011
Share
|

Del.icio.us
|

Podcast
|
WineAndDineHawaii.com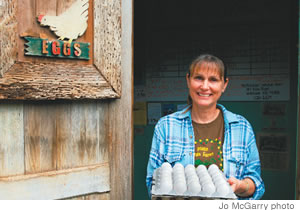 Occupation: Co-owner, Petersons' Upland Farm, Wahiawa.
Where were you born and raised? Right here in Wahiawa, as were my father and his father and his father ... the family came over to Hawaii in 1859. James Hopper Peterson, my grandfather, started the egg farm in 1910.
Anyone who's familiar with the farm knows that you are hands-on, old-fashioned egg producers. It's like taking a step back in time when you arrive at the farm. Yes, we celebrated 100 years last year. There are the original houses built by my grandfather where we collect the eggs. We have a very, very old machine that washes the eggs with hot water and sanitizer, and then air-blows them dry, and then we pack them and sell them right here from the farm.
Did you grow up working on the farm?Yes. Every day after school we'd have our chores, so we'd try to do our homework and then come down and do the chicken coop chores. I always loved it and appreciated what it did for us. Farming teaches you about responsibility and discipline, and being able to work hard.
By now, most people know the value of eggs in a healthy diet. Your favorite way to eat them? I love them so many ways, but my favorite is deviled eggs with a scoop of sour cream and chopped-up green onions and a little bacon bits served up on Diamond Bakery soda crackers. That's the best.
What's always in your fridge? Milk. I couldn't live without it.
Favorite restaurants in Wahiawa? Shige's Saimin is great and Dong Yang is always good - but I love all the restaurants around here.
Anyone you'd like to see drive up the farm road for some eggs? I think my grandfather and my grandmother - I'd love to see them again, and show my grandfather that we're still going 100 years after he began the farm.
Why do you think it's important to support small family farms? Agriculture is the key to a community. Once you've lost agriculture, you've lost not only sustainability, but you've lost a lifestyle that is about taking care of people, working hard and being disciplined. When you get away from that, I think you've lost something very important.
Most Recent Comment(s):