Stan Lum

By
.(JavaScript must be enabled to view this email address)
Friday - October 24, 2008
Share
|

Del.icio.us
|

Podcast
|
WineAndDineHawaii.com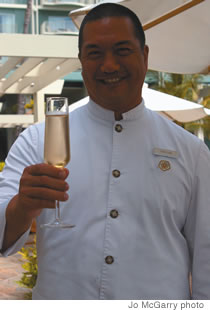 Title: Head bartender, Kahala Resort
Where were you born and raised? Honolulu. Graduated from University of Hawaii in journalism.
There are employees at the Kahala who've been there since the beginning - you've been there for 23 years. What's the attraction?
It's a great place to work. There's a clientele that always comes back, you really get to know people and we're in a great location - outside of Waikiki and away from it all.
A bartender, to me, is one of the crucial pieces of the restaurant puzzle. A bartender can make or break your evening.
Yes, absolutely. We have people who so enjoy our bartenders here that they eat breakfast at the bar while they're setting up. There's something about a bar - you can get food, wine, cocktails and have a bartender right there to help you at all times - that's more personal. Bartenders have to do way more than just make drinks.
For example?
Well, bartending facilitates relationships. It's about making drinks, but it's really more about making relationships.
Does everyone have it in them to be a great bartender?
Everybody has a personality that needs to come out, I think ... and certainly this is a way to do that. I would say I was kind of a reserved person, but interacting with people in this way gives you the opportunity to grow, if you let it.
Do you have a favorite bar?
Well, right now I don't go out too much. I'm the caretaker for my mom, who's 92. I enjoy places where the bartenders are good at what they do.
What's your favorite drink?
Diet Coke. Every now and then I'll kick back and have a Heineken, and sometimes I'll drink vodka.
What's the signature drink at Kahala?
The Royal Pine. It has papaya blended together with light and dark rum and its served in a fresh scooped-out pineapple. It's a really nice drink.
Who's the most memorable person you've served drinks to?
President Bush. There was an event held at the hotel for him and I was the bartender. At the end he came up and shook my hand and thanked me. We're used to lots of celebrities here, but I'm not sure I'll top serving the president.
What did he drink?
Ginger ale.
You see a lot of celebrities at the hotel - anyone very special?
We like to think all of our guests are special!
Most Recent Comment(s):