Stephanie & Noel Pietsch

By
.(JavaScript must be enabled to view this email address)
Friday - July 06, 2007
Share
|

Del.icio.us
|

Podcast
|
WineAndDineHawaii.com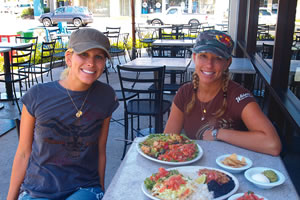 Stephanie & Noel Pietsch
Occupation:
Owners, Wahoo's Taco, Hawaii.
Where were you born and raised?
Honolulu.
Where did you go to school?
Punahou.
Did you have restaurant experience before you opened Wahoo's Taco?
Stephanie: Not really, just summer jobs working in restaurants. Noel: I worked at Matteo's.
So did you both have a dream to own a restaurant?
Both: No!
Noel: I graduated from USC, and I worked for Edgy Lee for a couple of years ...
Stephanie: And I was in LA working for the Angels baseball team, and I met one of (Wahoo's) owners and I thought the concept was great - it was young and hip, and I realized that there was nothing like it in Hawaii. My brother and sister had both been there too and thought the same thing - so we inquired about getting the franchise.
What's the most challenging part of the business?
Both: Labor.
Stephanie: Definitely trying to get a team together and employ great people. It's hard for everyone in Hawaii right now.
Noel: It's a problem that almost every restaurant owner has. Trying to build a team is frustrating because you get one together and it just doesn't last because of the working situation; the low unemployment rate. We've asked people on the Mainland about it and it's not an issue there.
Any mentors, or people who've impressed you in the industry?
Stephanie: For me it's been Don Murphy (owner of Murphy's Bar and Grill). He was the first person I was close to who owned a restaurant, and I saw how he was able to give back to the community and the kind of satisfaction that he got - and that impressed me. He was a consultant for us when we were getting started.
Noel: And our parents have been a great influence. The fulfillment they've had through their careers, the pride they have in working hard, and their roles in the community and how they value their friendships and relationships, that's influenced us a lot. We've always had a lot of support.
Where do you like to go eat when you're not working?
Noel: We love Town. And I like Chiang Mai for Thai food. Stephanie: Yes, Town we love. Murphy's, of course, and I really like Du Vin and Formaggio.
What's always in your fridge?
Stephanie: In season, a bowl of cherries. And there's always soymilk, cheese and wine.
Noel: I'm the takeout queen, so there's usually Thai leftovers. And hopefully fish that our brother caught!
What's next for Wahoo's ?
Noel: We've just launched our lunch wagon - it's going to be in Kailua most days.
Stephanie: And our catering is starting to take off, so that's keeping us busy!
Most Recent Comment(s):