Stephen Fuller

By
.(JavaScript must be enabled to view this email address)
Friday - May 19, 2010
Share
|

Del.icio.us
|

Podcast
|
WineAndDineHawaii.com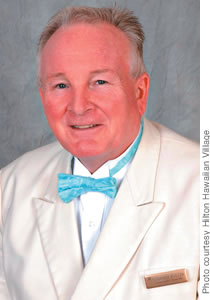 Age: 63
Job Title: Sommelier, Bali Steak and Seafood.
Where were you born and raised? I grew up in Fresno, and I got my undergraduate degree at Cal State Sacramento.
First job in the industry? Like many people, I started as a busboy.
What is it about the food and beverage industry that appeals to you? The interaction with guests and sharing what we do to make our guests' lives a little more comfortable.
What sparked your interest in wine? I grew up in wine country but didn't get interested professionally in wine until 1973 when I started working at the Cannon Club at Fort Ruger.
I know you have a great wine cellar at Bali. Can you tell us a little about the size, and some of the wines of which you're most proud? My cellar has 300 to 400 bottles. I enjoy serving a variety of the wines and can't pick out any particular wines I am most proud of. I have enjoyed watching the industry grow. In California when I first started, there were only about 700 wineries, and now there are about 1,400. And that's just in California!
Do you have a favorite wine-drinking memory? Interesting. I remember when the maitre d' at The Bistro, Alan Jackson, showed me the difference between something very subtle in wine and something that could knock your socks off. He showed me how to appreciate the subtleties in wine.
What are you recommending with a nice, juicy rib eye, now that Bali has been reinvented as a steakhouse? You could go with a full-bodied California Cabernet or an Australian Shiraz.
And with seafood? Our seafood dishes pair well with a Pouilly-Fume or a tart Sauvignon Blanc from California.
Do you like to cook at home? I don't cook that much at home.
What's always in your fridge? Fresh fruit, vegetables and leftovers from restaurants!
Where do you like to eat when you're not at Bali? I like low-key places. There's a great Japanese restaurant, Irafune, that I go to. Sunset pupus and cocktails at Kincaid's is nice, too.
Favorite dishes? I am partial to seafood over meat. I like shellfish - steamed clams, oysters and mussels.
Who has been a mentor to you, if anyone, and why? Mr. Jackson, whom I mentioned previously. I learned so much from him. Also Richard Dean and Eddie Osterland were both master sommeliers and I was lucky to have had the chance to spend time with them.
Who would you most like to see come in to the restaurant for dinner? I would love to have been able to have my mom and dad here for dinner.
Most Recent Comment(s):