Steven Matsuno

By
.(JavaScript must be enabled to view this email address)
Friday - March 10, 2010
Share
|

Del.icio.us
|

Podcast
|
WineAndDineHawaii.com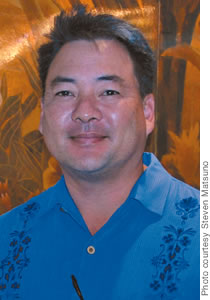 Age: 46
Job Title: Executive general manager, Seafood Village and Atlantis Seafood and Steak
Where were you born and raised? Iwas born in Alabama and raised in Honolulu. My father was in the military, and we traveled quite a bit.
What started your interest in food and beverage? My family has always been big on celebrations and eating.
First job? Milano in Discovery Bay, washing dishes and working the take-out window.
What is it about the industry that appeals to you? No two days are alike, and every day is new. You run across something or someone interesting every day.
You've just won a major restaurant award. Congratulations. Can you tell us a little about it? Chinese Restaurant News is a national publication that hosts an annual event to recognize the efforts of more than 45,000 Chinese eateries. The review is done secretly by a third party, and we were fortunate to come out sixth-best in the country.
What do you think makes Seafood Village different from most other Chinese restaurants? It's like a gathering in Hong Kong, except it's in Waikiki. Everyone seems to be celebrating something. We get birthdays, honeymoons, weddings, anniversaries, retirement parties - you name it, people find a reason to share a great authentic Cantonese meal at a great price.
What dishes would you recommend people try if they're coming for the first time? Our crispy bacon-wrapped scallops and shrimp, honey walnut shrimp, country-style crab and fresh, whole fish are my "must haves"!
Where do you like to eat when you go out? Anything Japanese.
Do you cook at home? Rarely. My wife is too good at it for me get in the way.
What's your specialty? My wife will only yield to me when we hibachi.
What's always in your fridge? Assorted Japanese condiments and soy milk.
Favorite kitchen appliance? Microwave. It's useful for heating leftovers, eating on the go and, of course, the late-night snack.
Most influential person in your life? My parents. I've discovered the older I get, the smarter they get.
With whom would you most like to have dinner? My family. I really enjoy their table talk and banter.
Is there anything about you that might surprise people? I've had four holes-in-one. I'm pretty golf-crazy.
Most Recent Comment(s):