Stu Schroeder

By
.(JavaScript must be enabled to view this email address)
Friday - August 10, 2007
Share
|

Del.icio.us
|

Podcast
|
WineAndDineHawaii.com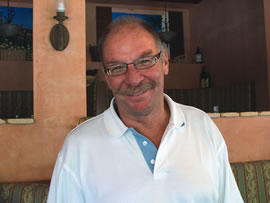 Stu Schroeder
Title:
General manager, Sergio's Italian Restaurant at the Hilton Hawaiian Village
Age:
53
Where did you go to school?
University of Hawaii-Manoa
What started your interest in the food and beverage industry?
I needed a night job so I could surf and sail during the day.
First professional position?
A busperson for two years at the Summit Restaurant at the top of the Ala Moana Hotel. I was later promoted and started to work my way up through various positions.
Who has influenced you most in your career, and why?
Wolfgang Schmidt and Ken Rakta. I worked with them in the cruise industry for 10 years. It's an industry that teaches a strong work ethic. They knew how to work hard, and expected the same from their employees.
If you weren't in this industry, what would you do?
Probably the wine industry. I can see myself farming grapes and owning a vineyard - with all the problems that entails!
Where's your favorite place to eat when you're not working?
Really anywhere I can go with my family.
What are your favorite dishes at local restaurants?
I like anywhere that does good poke, sashimi, oxtail soup and tripe.
What's always in your fridge?
Milk and a selection of different cheeses.
Favorite late-night snack?
Glass of Cabernet or Zinfandel.
Whom do you enjoy hosting most at Sergio's?
I enjoy serving any obviously loving families that are out to dinner together sharing good times and aloha.
Which person do you most admire in the food and beverage world?
I admire the mid-management ladies and gentlemen who work long hours for not enough money.
Best part of your job?
Hiring, with high expectations of the people we interview.
Worst part?
Firing them, with expectations blown.
Most Recent Comment(s):