Susanna Cheung

By
.(JavaScript must be enabled to view this email address)
Friday - November 17, 2006
Share
|

Del.icio.us
|

Podcast
|
WineAndDineHawaii.com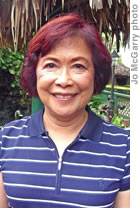 Susanna Cheung
Susanna Cheung is the founder of ORI (Opportunities for the Retarded Incorporated) and of Helemano Plantation in Wahiawa. The plantation is home to 45 adults, a restaurant, bakery, gift shop and banquet rooms, and a new day care center for the elderly and disabled is under way. Project plans reveal that the center will cost $5 million. Helemano Plantation's annual fundraiser is Dec. 15 at Hilton Hawaiian Village. For information on ticket sales, or to send a donation, call 622-3929.
Why did you decide to build Helemano Plantation?
We had a day center for our clients, but I knew we needed a place where we could do more than just take care of them for a few hours. I wanted somewhere where they could learn skills and be challenged. So I started looking for land and a place where we could build a center.
Did you dream that 26 years later you would be able to have more than 45 residents, a full-time restaurant, a gift shop and bakery, and be building a day care center?
Well, I did plan it. I like to plan everything. You can't just rely on government funding and help - you have to be able to help yourself to get anything you want. I built the restaurant and the gift shop so that the people who live here can have real-life experience.
How do you describe what you do?
I say that I need to bring in lots of money! A job like this involves a lot of sacrifice. You know, my father believed I was wasting my education when I told him I wanted to help others. He wanted me to take care of myself and to be a lawyer.
Where were you born and raised?
In Hong Kong. I came to Hawaii in 1961 and got my degree at UH. Hawaii is the place I call home.
Do you have a favorite restaurant?
Not really - in Hong Kong I do. I like to eat shark's fin and abalone, and I can't really find the caliber of dishes in Hawaii that they have over there.
I hear you are an excellent cook. What's your best dish?
I make some pretty good short ribs. I tasted them at all the best restaurants, and then I came back and worked with the cooks on a method where the meat stays on the bone, but is still very tender.
Of all the ones you tasted, who makes the best short ribs in Honolulu?
Well, we do. But Roy Yamaguchi's are pretty good - they come a close second! (laughs)
Who has had the biggest influence on your life?
Oprah Winfrey, because if I was in her shoes, I would do exactly what she does. I want to educate people, give things away, help people to challenge themselves and make their lives better. The only difference is Oprah has tons of money and I don't!
What do you think it is that drives you to continue with your humanitarian projects?
I've never thought about it as doing good for people - just about providing an environment where people can be challenged to be their best. That's why we have real training programs, a real restaurant and a bakery/gift shop. It gives our clients a sense of pride and purpose.
So, will you tell me the secret recipe to your exceptionally good pineapple pie?
No. (laughs) I was given the recipe by a Hawaiian tutu who made me promise not to give it away - only to use the recipe for good. That's why we'll never give out the recipe, and we only make the pies on special order.
With whom would you most like to have dinner?
Oprah, of course, and Ronald Reagan - I would have loved to have spent time with him.
Most Recent Comment(s):