Takaaki Fujii

By
.(JavaScript must be enabled to view this email address)
Friday - September 28, 2007
Share
|

Del.icio.us
|

Podcast
|
WineAndDineHawaii.com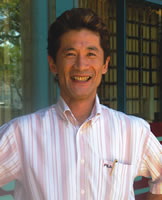 Takaaki Fujii
Title:
General manager, Shokudo Japanese Restaurant and Bar.
Age:
43.
Where were you born and raised?
I was born in Osaka, Japan, and went to school in Tokyo.
What was your first industry job?
In Japan, I worked in a restaurant as a server.
How long has Shokudo been in business?
Almost four years.
What would people be surprised to find out about Shokudo?
The name sounds Japanese, but it's really the concept of Japanese culture mixed with American. Most of our servers are local people who understand the menu and are able to explain it well to our customers. It's a very contemporary menu.
How do you describe the restaurant to people who've never been?
You will feel the real Japanese culture blended with local, friendly service. In Hawaii, traditional Japanese restaurants do not usually have a full-service bar. We try to promote our bar business as well as our restaurant business. It's the center of the restaurant.
Favorite dish?
I enjoy the Karaage deep-fried chicken and the mochi au gratin as well as our garlic steak.
Where do you like to eat out?
I really enjoy "American food" like burgers and fries. I also like to eat at Gaku and Iamanasu Tei.
What's always in your fridge?
Beer - Bud Light - and Snickers bars.
Has anyone inspired you thus far in the restaurant industry?
In the 20 years that I have been in this industry, Miki Watanabe has been someone I have admired. He brought the restaurant chain concept to Japan. When I first started working with him over 20 years ago he had two locations. Now he has more than 500 restaurants all over Japan. He has strong leadership skills, and he's very passionate about what he does. His actions speak louder than his words.
How does the dining scene in Japan differ from Hawaii at the moment?
In Hawaii, we are used to tipping our servers based on the service provided. In Japan, it is not customary to tip. Here, we are more service-oriented. In Japan there isn't necessarily a "system" in place for servers to follow. Also, the portions are much larger here!
Most Recent Comment(s):