Thomas Ky

By
.(JavaScript must be enabled to view this email address)
Friday - June 16, 2010
Share
|

Del.icio.us
|

Podcast
|
WineAndDineHawaii.com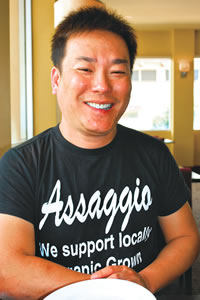 /div>
Title: Owner, Assaggio Restaurants and Yellow Fin Sushi Restaurant.
Where were you born and raised? I was born in Vietnam and I left my country when I was 14. I was adopted by a couple from New York City and went to live there. Then I moved to Hawaii when I was almost 20.
That must have all been quite a culture shock: Vietnam, New York, Hawaii.Yes, yes, of course. Vietnam is a small country, quite different from New York City. You have to make it there and survive on your own.
Do you remember how different the food was when you first left Vietnam and arrived in America? Yes. Actually my adopted father was Jewish and my mother was Puerto Rican. The first thing I remember eating was yellow rice and deep-fried banana and beans and chicken - Spanish food.
What gave you the determination to succeed? The people in the U.S. are very kind. They have good hearts. My adoptive parents gave me a great chance, and I told my father that later on when I grew up I would pay them back. He told me I never had to pay him back - I only had to remember to help other people.
Did you always know you wanted to own a restaurant? Yes, when I started working in kitchens I thought every day about how I would treat my employees if I owned a restaurant. I try never to forget to treat people well.
There are six Assaggios and now this Japanese restaurant. Why Japanese?I think people want to eat healthy, and I also think with the economy this bad that it's important that people have somewhere they can eat food that's good but not expensive.
Where do you like to eat when you're not working? I only eat at my restaurant or Yanagi Sushi. Or at home - my mom cooks, she makes good soup.
With whom would you most like to have dinner at Assaggio? Anyone who comes. I like to see everyone who comes to the restaurant. All of our customers are loyal. I believe everybody is special and that they deserve to be treated well.
Do you still travel to Vietnam or to New York? Yes, but anytime I leave Hawaii, whenever I land in Honolulu, I always feel like kissing the ground. I love it here so much. This is my home.
Most Recent Comment(s):