Tiana Kahakauwila

By
.(JavaScript must be enabled to view this email address)
Friday - May 06, 2009
Share
|

Del.icio.us
|

Podcast
|
WineAndDineHawaii.com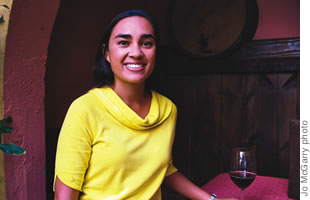 Title: Wine steward, Brasserie Du Vin.
Where were you born and raised? Long Beach. My dad's family is in Hawaii, so I've been coming here since I was a baby, and I officially moved here last August.
What got you interested in wine and in starting the journey to sommelier? My best friend's dad is a bit of a collector and he got me interested. He'd let us have a little bit of wine with dinner when we were teenagers. It taught me to appreciate wine and to become interested in knowing more.
And that led to a job at 'Wine Spectator'! I was writing and editing for a children's magazine and I got the opportunity to go to New York and work with the Wine Spectator. Before I knew it, I was in there with my own section and tasting wine with the big boys!
What did you write about, specifically? I handled profiles, so I wrote about well-known people who are wine collectors, and I also wrote about collecting: how to build a wine cellar, how to keep wine, those kinds of things ...
What's your personal philosophy on wine drinking - drink now or buy wine to save? I think a couple of special bottles are really important. It's nice to have something special to look forward to. But, for the most part, I say drink now - you never know what's going to happen.
What's a good way to experience Du Vin for the first time? I think our happy hour is excellent. There's half off food daily and it's a good way to taste different wines. But if you love wine, then it's our Monday night wine dinners all the way! Each course is paired with a full glass of wine, and chef and I work really closely together to pair the wines and create a theme. Memorial Day we have a great American theme going on. For $50 it's really nice - and fun.
With whom would you most like to share a bottle of wine at Du Vin? Anthony Bourdain. I think I have a little bit of a crush on him. And maybe Thomas Keller's sommelier - I don't know him, but the wine list at The French Laundry is so fascinating, I'd love to talk about that.
Any mentors thus far in your career? The Essner family, who definitely encouraged my wine passion, and Thomas Mathews at Wine Spectator. Bruce Sanderson at Wine Spectator too, because he's the first person who took me into an office in front of 20 Rieslings and said, "OK, let's go - tasting notes on all of them!"
What's always in your fridge? Cheese, fresh fish and fresh herbs. I love to cook.
Where do you like to eat when you're not working at Du Vin? Town. The food is so fresh. And there are a couple of places on Kapahulu Avenue: Sunrise on Kapahulu and the Kapahulu Poi Shop on Winam Avenue, which might have the best lau lau ever.
Most Recent Comment(s):