Tom Alejado

By
.(JavaScript must be enabled to view this email address)
Friday - July 18, 2008
Share
|

Del.icio.us
|

Podcast
|
WineAndDineHawaii.com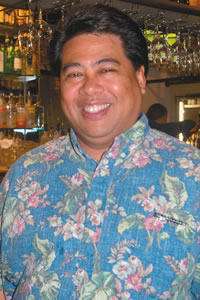 Tom Alejado is a managing partner with Sansei Seafood Restaurant and Sushi Bar and has recently opened the newest Sansei at Queens Shops Waikoloa on the Big Island. Despite the strained economy, Sansei has already developed a strong following of customers, particularly on Saturday nights when the bar is bustling and karaoke singers reign. Here he talks about standing in line with 4,000 others for his first fine dining job and why Clint Eastwood is the perfect restaurant guest.
Age: 46
Where were you born and raised?
Born in Honolulu. I grew up Pearl City.
What got you interested in the food and beverage world?
My first job was working in a pizza place in Waimalu Shopping Center and from there I went on to work in hotels and in fine dining restaurants.
What was your initial experience in fine dining?
I worked at the Halekulani in the 1980s. I remember standing in line for interviews with 4,000 people. When I got called back for the second and then the third time, I thought I had a chance. I started there as a server and I loved it right away.
Did you make a conscious decision not to stay within the hotel-dining scene?
I worked in hotels for about 18 years, but I wanted to experience working with independent chefs and restaurateurs, too, so I joined Jean Marie Josselin (chef-owner of a successful string of restaurants in the 1990s in Hawaii) and worked with his group here and on the Neighbor Islands. I joined D.K. (chef D.K. Kodama) in 2000.
Who has inspired you along the way?
Chuck Furuya (master sommelier) has been my mentor since those early Halekulani days. He teaches about wine, but about people, too. And Ivy Nagayama - I've learned a lot about the business and about people from working with Ivy.
What gives you the most pleasure?
I think seeing former employees go on and do well. When we see them as general managers or setting up in business, it's very rewarding to see how they've developed.
Anywhere you love to eat when you come back to Oahu?
Pah Ke's Chinese Restaurant in Kaneohe. I love that place!
What's always in your fridge?
Always apples - love them, especially those little red russets.
What's your recommendation at Sansei?
The panko-crusted ahi sashimi is excellent, and the mango crab rolls are one of the most popular dishes on our menu. You have to try them.
With whom would you most like to have dinner?
When I was working in Kihei, Clint Eastwood came for dinner several times. He was very gracious and humble - he shook hands with everyone at the bar before he sat down. The third night he came he remembered my name, so I'd love to have him back. And it's always nice to have dinner with my wife.
Most Recent Comment(s):