Tommy Hui

By
.(JavaScript must be enabled to view this email address)
Friday - January 23, 2009
Share
|

Del.icio.us
|

Podcast
|
WineAndDineHawaii.com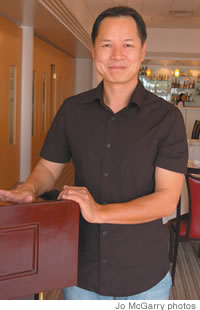 Occupation:
Owner, Joyful Garden Chinese Restaurant, Kaneohe
Where were you born and raised?
I was born in China and raised in Hong Kong until I was 12. I came to Hawaii 30 years ago, and this has been home since then.
Did you grow up experiencing restaurant life? Yes, I've been around restaurants most of my life and have worked in them for the past 25 years. My first job in Hawaii was at the Empress restaurant in the Chinese Cultural Plaza. I made $1.75 an hour.
There are many different types of Chinese restaurants in Hawaii. What makes Joyful Garden different?
Personally, I believe that a high quality of life comes through what we eat. We serve fresh ingredients, cook with clean, fresh oil and use clean techniques. Also, we don't try to change our style of cooking. Many restaurants use lots of MSG and serve a mixture of styles that become confusing. I would rather let people taste the authentic nature of our food and to encourage them, and their taste buds, to try truly fresh, different food.
You believe strongly that "you are what you eat." How is that reflected in your menu?
Yes, I try to offer healthy, good food. I'm a vegetarian, so we have lots of vegetarian options on the menu, and we also offer more than 50 types of dim sum daily. I also insist that we use fresh oil for cooking. You won't find dark, overused oil in our kitchen!
Do you cook at home?
Yes, when I have time. I cook pretty good seafood dishes - honey walnut shrimp, steamed fish or flaming crab or lobster are favorites.
What do you hope for 2009, this Year of The Ox?
I would like to see people eating better and taking their health, through eating, more seriously.
Joyful Garden
Windward City Shopping Center
45-480 Kaneohe Bay Drive
235-8228
Most Recent Comment(s):