Tona Risso

By
.(JavaScript must be enabled to view this email address)
Friday - August 08, 2008
Share
|

Del.icio.us
|

Podcast
|
WineAndDineHawaii.com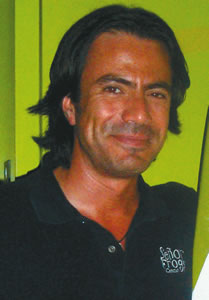 Jo McGarry is on vacation; This story is written by Kerry Miller.
Tona Risso is the general manager of Señor Frog's popular Waikiki location. The Mexico City native talks about his roots in the restaurant industry and who he'd most like to have dinner with.
Where were you born and raised?
In Mexico City, Mexico.
Where and when did you get your start in the food and beverage industry?
It was a long time ago. My dad owned restaurants since I was a kid. I've been in this business for a long time. I started working at this company 16 years ago in Mexico City, then went to other locations like Puerto Vallarta, Cancun, South Carolina, Myrtle Beach. Then I came here.
Who has been your inspiration and/or mentor throughout your career?
My dad, definitely. Since I've been in the restaurant business with my dad, I really got a lot of opportunity and interest for working in a business like this.
How are things at Señor Frog's after one year of business in Waikiki?
Very good, very good. Going well. Of course, the situation is probably not the best right now for obvious reasons, but we are happy, glad to be in Hawaii and to open our biggest location ever. Things are going well. We have a lot of tourists, but also have a lot of local clients on the weekend.
What was your biggest accomplishment during Señor Frog's first year of business?
One of our main goals when we opened here in Hawaii, well, first of all, just to open the place, because it's the first place out of Mexico that we built for this brand. The restaurant Señor Frog's in South Carolina, it was an existing restaurant. We just took over the place and changed the name.
What's to come for year No. 2?
Our goal is try to spread out more that the restaurant as family-oriented because we're well-known as a party place - that's why locals come on the weekends. But not a lot of people know we're also a restaurant open every day for lunch and dinner.
What's your favorite dish at Señor Frog's?
One my favorites is the Molcagde Azteca. That's a Mexican combination with steak, chorizo, avocado, onion, white cheese, served in a Mexican stone container. So we put everything in there with red and green sauce in the middle so people can make their own tacos.
Where do you like to eat besides Señor Frog's ?
Many other restaurants. I like local restaurants like Uncle Bo's, Longhi's.
With whom would you most like to have dinner?
I would like to eat with professional surfers.
Most Recent Comment(s):