Toni Kitamura

By
.(JavaScript must be enabled to view this email address)
Friday - September 09, 2009
Share
|

Del.icio.us
|

Podcast
|
WineAndDineHawaii.com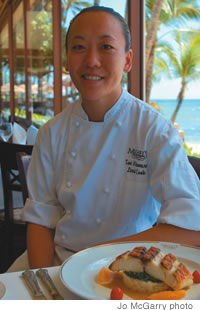 Job Title: Sous chef, Michel's At The Colony Surf
Where were you born and raised?
I was born in Hilo and I went to Kapiolani Community College to pursue my culinary education.
What started your interest in food and beverage? My parents always liked to cook. We have a small store back home in Hilo, Itsu's Fishing and Supply store.
That's really quite a famous fishing and supply and shave ice store, not to mention a great place to go for a hot dog. Yeah, I guess it is. I worked there from when I was 12 or 13 years old. I'm pretty good at forming shave ice cones.
So what's the best combination? Oh, probably strawberry with azuki beans and ice cream, but you know shave ice, it's pretty individual. And no, I can't give you the secret of the legendary shave ice.
OK, so how did you come to fine-dining Michel's? I came to Michel's out of school. I was graduating KCC and I thought I might as well start work right away in the industry.
How did you start? I started in the pantry, but I would have done anything, really.
Tell us about the new menu you created. I had the chance to work on a three-course menu: Seared scallops with angel hair pasta tossed with fresh arugula and a tomato lemon lime vinaigrette, and the entrée is crispy skin onaga with an orange glaze and white wine sauce, or there's lamb loin with goat cheese and blueberry demi glace.
I tasted the menu, it's great. Congratulations. Do you cook at home? No, not really.
If friends were coming for dinner, though, what would you do? Oh, barbecue, for sure.
What's always in your fridge? Vitamin water.
Who would you most like to cook dinner for at Michel's? My parents. I would want them to see and to experience all that I've learned coming from knowing only home cooking. They are very supportive of what I'm doing.
Favorite restaurants? Boulevard Saimin, Millions Yakiniku, Sushi King.
Favorite movie? Pan's Labyrinth.
I bet you're a pretty good fisherman, growing up at Itsu's. My father is an excellent fisherman. I grew up fishing from the boat and shore. Once in a while I go with my boyfriend, who loves to fish, but it's different on Oahu than on the Big Island.
Most Recent Comment(s):