Tony Liu

By
.(JavaScript must be enabled to view this email address)
Friday - August 05, 2009
Share
|

Del.icio.us
|

Podcast
|
WineAndDineHawaii.com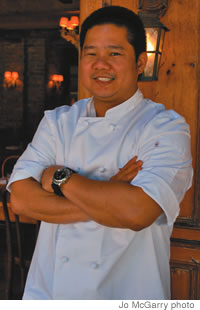 Job Title: Executive Chef, Morandi Restaurant, New York
Where were you born and raised? On Oahu. Grew up in Hawaii Kai. Went to Kaiser High School and then graduated from KCC.
First jobs in the industry?
While I was going to school, I worked at 3660 On the Rise and Roy's, and also at the Lodge at Koele and at Hilton, but my first job was in a Korean restaurant in Aina Haina - Doraji. It's no longer there.
What started your interest in cooking? I always liked cooking. My parents are both very good cooks and food was always the center of our family. We went out to eat quite a bit, and we always had family dinners. I think that's true for most people in Hawaii - we like to eat and experience different foods.
So did you make a conscious decision to leave Hawaii to learn more about cooking? Yes, I did. I was working and going to KCC, and a friend of mine was going to the Culinary Institute of America in New York. At 19 I didn't exactly know what I wanted to do, but my love for cooking was growing and I thought it was all exciting. As soon as I began my externship in New York, I loved it. For me, the European influence and the level of cooking was something I wanted to learn. Once I graduated I decided to stay here and get as much experience as possible.
You've worked with some great chefs thus far. Anyone a favorite?
All of the chefs I've worked with have influenced me in some way, but I'd say that Daniel Boulud is an incredible example of the perfect restaurateur. He has business acumen, passion, his love of the restaurant business is all-consuming. He's a great host, teacher ... he created a base for me.
What's your culinary style? I'd say it's a little more classical than modern. I appreciated when I first came to New York that the European influence was so strong here. But I still bring in contemporary ingredients. And every chef, I think, always draws on his roots.
What's always in your fridge at home? (laughs) Aloha shoyu. I have to have people send it from Hawaii! And usually leftover rice, and cheese - my 2-and-a-half-year-old son loves cheese.
Do you cook at home?Yes. We live in Jackson Heights in Queens, and there's a real multicultural community. There's Pakistani, Chinese, Japanese, Colombians, Peruvians ... and we have incredible markets right next to each other.
Favorite restaurants in Hawaii? There are a lot of restaurants I like to go to ... Chef Mavro is one. (Chef de cuisine) Kevin Chong and I were roommates when we were at CIA. It's always good to see what they're doing.
With whom would you most like to have dinner at Morandi? My parents, who still live in Hawaii Kai. I haven't seen them in a while, so that would be good. They haven't been to Morandi yet.
Most Recent Comment(s):