Tony Tacon

By
.(JavaScript must be enabled to view this email address)
Friday - September 16, 2005
Share
|

Del.icio.us
|

Podcast
|
WineAndDineHawaii.com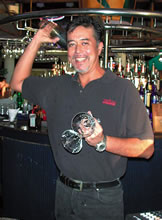 Tony Tacon has been the bar manager/bartender at The Row Bar for almost 14 years, and he's been in the food and beverage industry for more than 25. He worked for almost a decade at the long gone, much missed Andrew's at Ward Centre. Here he chats about playing golf, his award-winning Bloody Mary and why he'll never wear a bowtie again.
Age: 41
First job in the industry:
I was a waiter at Andrew's for over 10 years. I loved working there. The food was fantastic. We were always busy for lunch and dinner, there was a great regular clientele and we made pretty good tips! I made a lot of lifelong friends while working there.
Who has influenced you most in your career?
Paul Robotti, who hired me at The Row. I was "green" and had never bartended before. Paul taught me the ropes and tricks of the trade. When we first opened the Row, our uniform was white tuxedo shirt, red bowtie, red cummerbund and black tux pants. We wore this in 90-degree weather for almost two years. I'll never wear a bowtie for the rest of my life.
Favorite cocktail at The Row?
A few years back I won an award in a competition for my Bloody Mary shooter. It's a traditional Bloody Mary with lots of horseradish, lemon and my secret recipe mix. It's very popular with our customers.
Favorite dish at a Hawaii restaurant?
This one is long gone, but not forgotten: The Carbonara and The Roasted Peppers with Anchovies at Andrews will never be duplicated.
Today, I think the steak and pupu at Ruth's Chris are first rate.
What's always in your fridge?
A case of bottled water.
Favorite late night-snack?
Everything is mostly closed when I get off work. Believe it or not, 7-Eleven has decent snacks. They have a garlic chicken bento and a sweetbread breakfast sandwich made with ham, egg and cheese. I try to take an alternate route home so I don't pass one on the way.
Who'd you most like to see at your bar?
Angelina Jolie, Howard Stern, Shaq, John Daly, Andy Dick and Pam Anderson. That would be some party!
With whom would you most like to sit down at the bar for a drink and a chat?
Al Gore and John Kerry - to ask them what the hell went wrong!
How do you relax?
I love golf. If I could, I'd play five times a week. We have a large group of people in the industry who get together every week and play.
What's the best thing about working in this industry?
It's very satisfying to know that someone can come to The Row Bar to unwind and relax after a tough day or a long work-week. They can enjoy good conversation with us, with their friends and even meet new people. When I'm at work, I feel like the host of a big party.
Most Recent Comment(s):