Tracy Yadao

By
.(JavaScript must be enabled to view this email address)
Friday - February 16, 2007
Share
|

Del.icio.us
|

Podcast
|
WineAndDineHawaii.com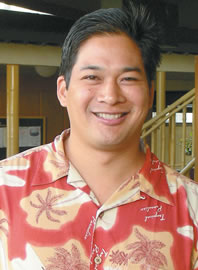 Tracy Yadao
Tracy Yadao is a manager at Pagoda Restaurant. Like many of the employees at one of Honolulu's oldest hotel/restaurants, he began his career at Pagoda and has been there ever since. Pagoda has recently undergone a 'face lift' and continues to attract a large, local following at both breakfast and lunch.
Title
Restaurant Manager, Pagoda Hotel and Restaurant.
Where did you go to school?
Kaimuki High School and then I graduated from KCC.
First job in the industry?
Right here at Pagoda.
What do you think it is about Pagoda that makes employees want to stay here their entire working lives?
I think it's the atmosphere and the people. Some of our staff has been here for almost 40 years - people like working here, they like the other staff and of course the kind of customer we get here makes it fun.
You graduated from the culinary program at KCC - does that mean you'd eventually like to cook at your own place?
Yes, I would like to open a place of my own someday; a small sports bar with great food, good pupu and drinks. Kind of like a smaller version of Side Street.
Any mentors in the industry?
My brothers (he has three brothers and three sisters) were always cooking - one of my brothers is a home chef, and he has a catering business, so he's kind of inspired me.
What's your best dish?
I make really good hot wings! I make a couple of good dishes, I love to cook at home.
Favorite restaurants?
Side Street, of course, and I eat the same things there that everybody seems to eat - pork chops, fried rice and smoked pork! I also like to go to California Rock 'N' Sushi. They have a great special if you go before 6 p.m., $1 nigiri.
How do you relax?
I like to surf and to play golf once or twice a month if I can.
Who would you most like to see in the Pagoda dining room?
Tiger Woods and Colt Brennan.
What's a challenging part of your job?
Getting everyone on the same page, implementing teamwork so it works for everybody.
Best part?
When it all comes together and you know that you're doing well.
Most Recent Comment(s):